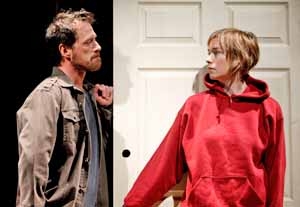 It all starts with an innocent party game and a quintet of snarky New York friends whom you wouldn't want to know. They're the kind who usually turn up in Off-Broadway plays constantly one-upping each other with smartass barbs and complaining that their lives didn't turn out exactly the way they pictured them in college. But like the seemingly harmless game that launches it, Melissa James Gibson's "This" gradually grows beyond a passing amusement and takes on a compelling life of its own. Gibson, whose "[sic]" was a quirky hit a few seasons back, has a sharp mind and writes clever, quotable dialogue. Her people may come off as too witty for their own good at first, but they get under your skin, and by the end of the play's 115 intermissionless minutes you care about them.
At the center of this small circle is Jane, a published poet recovering from the recent death of her husband and coping with her difficult daughter. Best friend Marrell, a jazz singer, attempts to set Jane up with too-hot-to-be-true French doctor Jean-Pierre. Marrell, however, is attracted to Jean-Pierre, while her husband, Tom, a struggling carpenter, finds himself constantly thinking about bedding Jane. Hovering around the edges is eccentric Alan, an unemployed gay man who makes his living displaying his uncanny memory on TV talk shows.
With the exception of the centered Jean-Pierre, who has a healthy European attitude about sex and relationships, each is unhappy with his or her lot. Gibson wisely keeps them from turning into whiners and gives them such expressive zingers as "I hate the word 'blog'; it sounds like a large accumulation of snot" and "I have no problem with self-involvement, except in others." They fight their battles of raging emotions with words as weapons. The vague title refers to the uncertain state of affairs created by their messy feelings. "What do we do about this?" asks Jane when Tom reveals his longing for her. Fortunately, the playwright is as specific in dealing with her characters' inner conflicts as her title is general. Director Daniel Aukin balances the razor-sharp observational comedy with naturalistic staging. Louisa Thompson's lived-in set, which looks like you could move right in, contributes to the lifelike atmosphere.
Julianne Nicholson is a funny, frazzled, lovable Jane, so overwhelmed by her hectic home life that she can't even repair the zipper on her coat. When she finally breaks down and faces her husband's death, it's shattering. Eisa Davis is equally moving as the mixed-up Marrell and displays a rich, honeylike singing voice during her musical scenes. Darren Pettie gives Tom an appropriate combination of macho aggressiveness and jittery insecurity. Glenn Fitzgerald strongly conveys Alan's intelligence and wit as well as his barely hidden self-loathing. Louis Cancelmi makes for an attractive Jean-Pierre, with just the right edge of mystery.
Presented by and at Playwrights Horizons, 416 W. 42nd St., NYC. Dec. 2–Jan. 3. Tue.–Fri., 8 p.m.; Sat., 2:30 and 8 p.m.; Sun., 2:30 and 7:30 p.m. (212) 279-4200 or www.ticketcentral.com. Casting by Alaine Alldaffer.