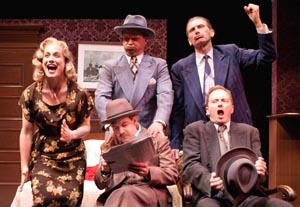 A scrumptious screwball comedy by John Cecil Holm and George Abbott, "Three Men on a Horse" is a little slow out of the starting gate. But once it finds its pace, it so thoroughly charms that one is actually reluctant to bid the three-act, two-and-a-half-hour show adieu at the finish line. Originally presented on Broadway in 1935, when, according to program notes, horseracing was the second most popular sport in America, the ably constructed play concerns a milquetoast greeting-card writer, Erwin Trowbridge, who has an infallible knack for picking winning racehorses. When Erwin's "gift" is discovered by a trio of down-on-their-luck gamblers, amusing antics abound and crazy complications ensue.
Under the snappy direction of Scott Alan Evans, the production begins with a fun interactive pre-show, in which audience members are invited to bet on a horse race. The play proper, though, opens with a scene, set in Erwin's home in Ozone Heights, N.J., involving the show's three most dislikable characters: Erwin; his wife, Audrey; and Audrey's brother Clarence. Though appropriately meek, Geoffrey Molloy's Erwin is at times unbearably whiny. Becky Baumwoll is totally unappealing as Audrey, and Scott Schafer offers an annoyingly unnuanced portrayal of Erwin's disapproving brother-in-law.
However, when the action moves to a New York City hotel barroom, where we meet gamblers Charlie, Frankie, and Patsy, plus Mabel, Patsy's bimbo blond girlfriend, the show is soon off and running. One is at first disappointed by the stereotypical manner in which these characters are painted; they all sound, look, and behave like they just stepped out of "Guys and Dolls." But the actors—Jeffrey C. Hawkins, Don Burroughs, Gregory Salata, and Julianna Zinkel—bring such zest, intensity, and warmth to their performances that one quickly becomes enchanted by these lowlifes and completely invested in their actions.
Adding immeasurably to the production's saucy tone and 1930s feel are Martha Hally's handsome costumes and Brett J. Banakis' accurately detailed set, which shifts impressively back and forth, from a suburban living room to a big-city hotel, with the grace and speed of a winning racehorse.
Presented by the Actors Company Theatre at the Beckett Theatre, 410 W. 42nd St., NYC. March 24–April 23. Mon., Wed.–Fri., 7:30 p.m.; Sat., 2 and 8 p.m.; Sun., 3 p.m. (212) 239-6200, (800) 432-7250, or www.telecharge.com. Casting by Kelly Gillespie.