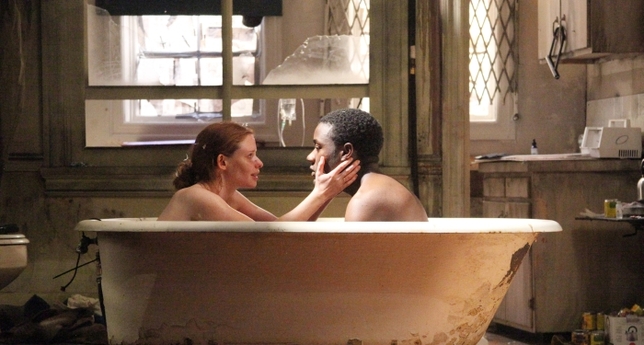 Audiences are dropped into a war zone from the moment they enter the Rattlestick Playwrights Theater for Adam Rapp's "Through the Yellow Hour." The ushers stamp theatergoers' necks as tickets are checked, and Christian Frederickson's bombastic soundscape gives the sense that intense fighting is taking place just outside the West Village venue. It's an exhilarating plunge into the world that Rapp's imagined for his newest play, which, under his direction, sustains its richly ominous atmosphere for all of its 100 minutes but proves too often to be dramatically inert.
Set in a bombed out apartment building on the Lower East Side (Andromache Chalfant provides the gritty, detail-rich scenic design), the play centers on Ellen (Hani Furstenberg), a former nurse who's been subsisting on her wits and meager rations for more than two months. Ellen wards off an intruder (Brian Mendes) as the play begins, and soon after she is tersely and guardedly letting Maude (Danielle Slavick) into the apartment.
The latter has arrived with an infant girl, because she's heard Ellen will be able to transport the child safely away from this world where men are being tortured and castrated and in which all women are being enumerated. Her payment will be a few nights of sleep in a place with electricity and running water and, if she's lucky, some of the prescription painkillers that Ellen has amassed.
Rapp lays some terrific groundwork for a two-hander with the women's encounter. Furstenberg and Slavick's carefully calibrated performances make the characters' time together so engrossing that it actually comes as a disappointment when Hakim (Alok Tewari in an intense turn) arrives to interrupt them, carrying a letter from Ellen's long-missing husband.
The scene that he and Ellen share—which unfolds in near total darkness (the one misstep in Keith Parham's otherwise solid lighting design) and makes the stage show feel like a radio play—contains some horrific details about the world Rapp's imagined. But the question-and-answer structure of their meeting and Hakim's narrative about the torture he and Ellen's spouse endured, though wince-inducing, might be better suited for a short story than the stage.
Eventually, Rapp introduces Claire (Joanne Tucker) and Doctor Joseph (Matt Pilieci) to the action, two representatives sent by a wealthy woman to pick up the child Maude brought to the apartment. Their arrival helps audiences understand why Ellen wanted the child in the first place. But as in the other scenes, this denouement is filled with hefty exposition to establish character and intent, and audiences will most likely find themselves bristling at having to experience what could very well be a first scene of a play so late in the game—even though Rapp does finally reveal the sorts of ethnic prejudices that led to the destruction of the city.
To her credit, Furstenberg delivers a richly textured performance as the woman visited by so many, and the vulnerability that she brings to the play's overly saccharine conclusion both surprises and impresses. It's a turn that would shine even more brightly in a more dramatically gripping play.
Presented by and at Rattlestick Playwrights Theater, 224 Waverly Pl., NYC. Sept. 27–Nov. 10. (866) 811-4111 or www.rattlestick.org. Casting by Calleri Casting.
Critic's Score: B-