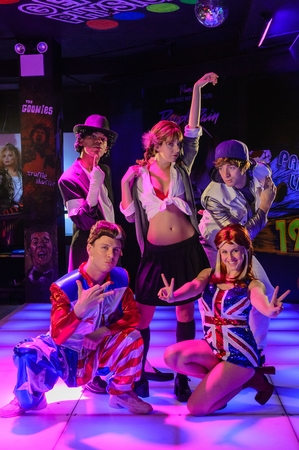 Ever wanted to flirt with Madonna, dance with Michael Jackson, or sing with Nicki Minaj? If you answered "Totally tubular," head over to Culture Club, where "Totally Tubular Time Machine" performs every Saturday at 8 p.m. Billed as an interactive pop musical experience, the show is part happening, part musical revue, part homage to popular music, and all party.
The idea at the heart of "Totally Tubular Time Machine" is that its audience is attending the 1989 MTV Video Music Awards' after-party, where stars from every decade from the 1980s till now pack the room. No explanation is given as to how Justin Bieber and Lady Gaga have made it back to 1989, but that's not important. The point is for the audience to mingle with its American and British idols while watching—and sometimes participating in—their musical performances.
As we enter Culture Club we meet our host for the evening, the Queen of the Decades, a man in drag sporting a towering pink beehive. He ushers us upstairs through a round room called the Time Machine into a celebrity-studded nightclub. There we interact with various famous performers, each of whom takes the stage at least once to belt out a song, alone or in a group. In the middle of the show guests are brought up from the audience to participate in a karaoke contest alongside the stars who made the songs famous. The climax features Madonna Past and Madonna Present—yes, there are two of them—battling Lady Gaga in a sing-off, which is decided by audience vote. (The Madonnas won the night I attended.) After the show ends, audience members are free to remain at Culture Club and dance and drink for the rest of the evening.
As Queen of the Decades, PJ Mehaffey barks out commands and quips, keeping a firm grip on the raucous proceedings. Damien Deshaun Smith moves uncannily like Michael Jackson. Jill Pollack Rutsky, as Madonna Present; Meg Lanzarone, as Madonna Past; and Ann-Marie Sepe, as Lady Gaga, blaze through their competition. Rachel Ford and Devin Nystrom look so much like Minaj and Bieber that one could be faulted for wondering if the actual stars were in the house.
Director Suzanna Melendez keeps the pace of events brisk and the tone light and nonthreatening. Sarah Cogan's costumes capture the necessary elements of the various celebrities' images, from Madonna Past's conical bra to Lady Gaga's meat dress.
Creators Melendez, Robert Watman, and Denise Fennell have made an environmental event in "Totally Tubular Time Machine" that is ideally suited to birthday celebrations, bachelorette parties, and similar group festivities. Theatergoers seeking a real musical will be disappointed, however, as "Totally Tubular Time Machine" is basically a themed revue, its songs linked only by environment, not character or theme. Still, it scores high on the fun index, which is the proper scale on which to rate it.
And there's always the bar.
Presented by Robert Watman and Denise Fennell at Culture Club, 20 W. 39th St., NYC. Opened Feb. 9 for an open run. (212) 921-1999 or www.totallytubularnyc.com.
Critic's Score: B