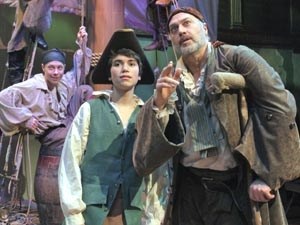 When it comes to fisticuffs, you can't beat B.H. Barry. The award-winning fight director has masterfully staged contained mayhem for more than 40 Broadway and 80 Off-Broadway shows, as well as numerous operas, ballets, films, and TV productions. But with his stage adaptation of Robert Louis Stevenson's adventure classic "Treasure Island," Barry achieves only a draw, not a knockout.
Acting as producer, director, co-author (with Vernon Morris), and, of course, fight director, Barry appears to have taken on too much. As expected, the individual sword clashes and brawls are excitingly realistic, and there are a few pieces of ingenious stage business. When a drunken first mate is thrown overboard by Long John Silver's scurvy crew, Barry has the pirates cover their victim with a blue cloth. The poor swab is dragged offstage as the murderers ripple the fabric to make it resemble a billowing wave. This is a clever and economic method of telling the story in theatrical terms. Unfortunately, it's a rare moment. The only other staging innovation involves the actors arranging set designer Tony Straiges' wheeled platforms to suggest ships at sea or in port. The device is overused, and in the large playing area of Brooklyn's Irondale Center it takes up way too much of the show's overstuffed two and a half hours.
Yet there are those fights—glorious eruptions of clanging swords and screaming scalawags. For a few fun-filled moments, you would swear you were watching a vintage Errol Flynn swashbuckler in three dimensions. You can even smell the sulfur of exploding muskets. But the action is ground to a halt by long, talky narrative scenes. If Barry had trimmed them, this would be a more seaworthy vessel.
The voyage is almost saved by a pair of shipshape performances: Tom Hewitt's as Long John Silver and Tom Beckett's as both Blind Pew and Ben Gunn. Instead of relying on sea-dog stereotypes, Hewitt creates a lovable old villain who is equal parts man of honor and conniving killer. In most adaptations, Silver is played as such an obvious blackguard that the honest characters seem like idiots to be taken in by his guile. Hewitt gives Silver such charm that it's entirely credible that the intelligent captain and the pompous but sensible Squire Trelawney would hire him as the ship's cook and that the cabin boy, Jim Hawkins, would befriend him. Beckett makes Pew, one of Silver's cutthroat cohorts, a chillingly dangerous adversary and provides welcome comic relief as the shipwrecked Gunn.
Young Noah E. Galvin, as the adolescent Hawkins, has the heavy burden of narrating and carrying the main action and handles it with professional aplomb. Veterans Rocco Sisto, Kenneth Tigar, and Steve Blanchard also offer sturdy support, and Ken Schatz lustily croons the sea-chantey score.
If this were a half-hour stunt show at a theme park, with only the fights and a modicum of story, it would be perfect. Performers interested in pursuing that challenging line of work might want to check it out, but for the rest of the theatergoing public, this "Treasure" chest is only half full. 
Presented by Golden Rivet and Irondale Center at the Irondale Center, 85 S. Oxford St., Brooklyn, N.Y. March 5–April 7. Mon.–Fri., 7:30 p.m.; Sat., 3 and 8 p.m.; Wed., 2 p.m. (212) 352-3101, (866) 811-4111, www.theatermania.com, or www.irondale.org. Casting by Pat McCorkle.