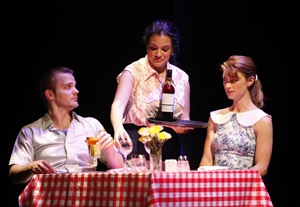 Betty is a foulmouthed, bourbon-swilling old broad with a Texas twang and, played with gritty gusto by Beth Grant, she dominates "Tricks the Devil Taught Me," Tony Georges' convoluted melodrama that's frying like an overcooked steak at the Minetta Lane Theatre. Betty is also a close cousin to the monster mother of "August: Osage County," and that's probably the main reason this contrived work is receiving a commercial production—the producers are hoping to duplicate the success of Tracy Letts' Pulitzer Prize
–
winning smackdown. While Letts expertly examined the tensions within a large dysfunctional family and, by extension, American society, Georges just casts out a number of plot lines. Some he ties neatly together; others he leaves dangling.
The basic through-line is a study of how Betty got to be such a nasty bitch. By means of flashback scenes, we learn that Betty and her macho, layabout hubby, Don, had to get married when she became pregnant. An abortion was out of the question for the churchgoing young lady. Resentment over being trapped in wedlock boils over, and the pair gradually morph into a Southwestern version of Martha and George from "Who's Afraid of Virginia Woolf?" Meanwhile, in the present, Don is scheming to run off, accompanied by their adult son, Jeremy, who is also itching to desert his wife and child. Hovering around the edges of this mayhem are Elizabeth, a co-worker of Don's with whom he once had an affair; Lorraine, Betty's equally unhappily married best friend; and Kim and Renee, two gossiping hypocrites from Betty's church.
Georges does possess a talent for planting seemingly unimportant details that prove significant as the play progresses. But with Betty and Don such snarling beasts and Jeremy such a wimp, it's hard to care what happens to them. Plus the plot is so improbable that it stretches credibility way past the breaking point. All the main characters are given Deep, Dark Secrets. Betty's is the biggest and the darkest, and it's revealed with such a melodramatic flourish close to the end that you'd swear you were watching the last episode of a long-running soap.
The playwright is his own director—generally a bad sign—and he does get some pulse-pounding action going when Betty and Don have their final confrontation, but too much of the script consists of this pair screaming at each other. Thus the staging becomes repetitive. Fortunately, Grant doesn't settle for playing Betty as a cast-iron virago. She displays the soft heart underneath the tough exterior, while Julie Jesneck, as Betty's younger self, carefully tracks the hard journey from innocence to bitterness. She also does a nice job doubling as the sanctimonious Kim. Peter Bradbury struggles manfully to make Don more than just a hissable villain but falls short. Jodie Lynne McClintock gives Lorraine a refreshing bite, Desiree Rodriguez brings zest to Elizabeth's few scenes, and, in two roles, T.J. Linnard makes young Don an attractive scoundrel and Jeremy a sympathetic schlub.
The biggest surprise here is that Broadway veteran Mary Testa would accept the tiny part of Renee. She manages to take this stereotypical Texas church lady and through expert timing and subtle body language create a believable character. But hey, this is a tough economy, and at least she's got a job.  
Presented by Maddy Bassi, Idle Mind, and Circa 1440 at the Minetta Lane Theatre, 18 Minetta Lane, NYC. Opened Aug. 18 for an open run. Tue., 7 p.m.; Wed.–Fri., 8 p.m.; Sat., 2 and 8 p.m.; Sun., 3 and 7 p.m. (800) 745-3000 or www.ticketmaster.com. Casting by Stuart Howard and Paul Hardt.