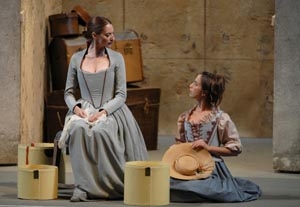 The most arresting moment in adapter-director Toni Servillo's production of Carlo Goldoni's 1761 "Trilogia della villeggiatura" ("The Holiday Trilogy") comes when a tall gray flat with three holes in the shape of doorways descends slowly to the stage floor. The scene change is an emergence from a "green world," a country holiday, during which the willful Giacinta, betrothed to the prodigal Leonardo in the trilogy's first act (the last time we saw the flat with the doors), has fallen in love with another, Guglielmo. Back home, Leonardo's debts have caught up with him, making a successful marriage all the more necessary, just as Giacinta's and Guglielmo's sense of duty makes similar demands on them.
It is the genius of Servillo's production that this transition is viscerally felt, an implicit referendum on the comedy that makes up the play's first two parts. In his day, Goldoni did to the commedia dell'arte what Servillo does at this point in his production: He brought it down to earth, using the commedia's characters, themes, and basic plot structures while undermining its carefree assumptions.
As performed by Servillo's company of actors—which includes Servillo himself, a standout as the foppish Ferdinando—the air is clogged in the first and third acts by a torrent of language, spoken so quickly and in such quantities that it is hard for a nonItalian speaker to follow the supertitles. But the second act is a release of tension, in which language slows to make room for play, distraction, and the whims of desire. Throughout, the performers exhibit a confident precision rarely seen on American stages, as when Marco D'Amore, as the buffoonish Tognino, turns swatting a fly into Chaplinesque choreography, or when the brilliant Anna Della Rosa, as Giancinta, convulses at the thought of a new lover or broods in stony silence over her impossible dilemma.
While the cast fills in the details, it's the designers who set the canvas. Leaves shine through gobo-filtered lights when nighttime comes to the country; during the daytime, a yellow orb radiates so powerfully from an illuminated scrim we expect to emerge with a tan. When Della Rosa's character proclaims her final decision to "go with my husband," the production's careful calibration of tension and mood succeeds in lifting Goldoni irrevocably out of the 18th century, revealing him as a daringly modern witness to the compromises of lovers' hearts.
Presented by Lincoln Center Festival 09at the Rose Theater, Time Warner Center, Broadway and West 60th Street, 5th floor, NYC
.
July 22
–
25. Wed
.–
Sat
.,
8 p.m
.;
Sun
.,
3 p.m
.(
212
)
721-6500 or www.lincolncenter.org
.