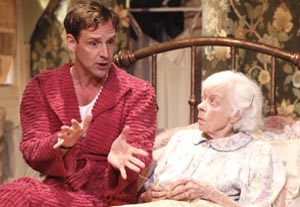 Some plays just don't sound good in plot summary. If I were to tell you that Morris Panych's "Vigil" is a two-hander about a man visiting his estranged, dying aunt, how could you not sound the "Tuesdays With Morrie" alarm? But fear not; this is no treaclefest. Acerbically funny and sneakily affecting, "Vigil" is a jagged jewel of a play.
Malcolm Gets, often cast as a quirky romantic lead ("A New Brain," "Amour," TV's "Caroline in the City"), plays Kemp, a prissy, asexual misanthrope with nothing to show for his time on earth but a mouthful of bile ("Why promise yourself to be a better person? Why not promise yourself to be a taller person?"). Kemp scorns his aunt for not interfering in his comically insane upbringing (it sounds a bit as if he were raised by Albee characters), and he's now by her side only to insinuate himself as heir.
Again, not an original plot, but there's something to Kemp's gnawing loneliness and how it fuels his impotent aggression, especially as Grace (Helen Stenborg) stubbornly refuses to die. Gets plays Kemp without a trace of vanity, going to ugly places without winking at the audience to let us know that deep down he's charming.
It's a tribute to Stenborg's tender, twinkling performance that she makes the evening feel balanced, despite having only a handful of lines. Her physical performance speaks volumes—there's something dear and mischievous about this bed-bound biddy—and the scene in which she places her hand on Gets' shoulder is a minor comic masterpiece.
Stephen Dimenna directs with unforced, excellent pacing. Frequent filmic blackouts and Greg Pliska's playful original score convey the passing of time. Yes, inevitably some lessons are learned, some understanding of self and the world gained. But those steps are so small, gradual, and well-earned that what's supposed to move you actually does.
Presented by Angelo Fraboni, Daryl Roth, and the Watchful Group at DR2 Theatre, 103 E. 15th St., NYC. Sept. 30–Nov. 29. Wed.–Sat., 8 p.m.; Wed., 2 p.m.; Sun., 3 and 7 p.m. (212) 239-6200 or www.telecharge.com. Casting by Lewis & Fox Casting.