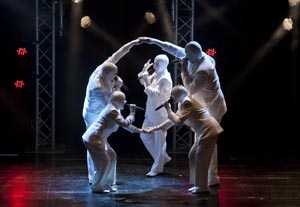 Out of the dark, eight bald, chalk-white figures shuffle onto the stage of the Westside Theatre (Upstairs), gazing about apprehensively and twittering in an unknown tongue. They are the Voca People, aliens from the planet Voca who have come seeking fuel in the form of musical energy for their grounded spacecraft. By the end of this appealing 90-minute show, they have generated enough power through their thrilling a cappella singing to supply a fleet of starships.
Created and directed by Lior Kalfo, "Voca People" is a melding of new vaudeville, the circus, and a smidgen of musical theater. Its hook is that the eight-member ensemble performs all the "instrumentation" with its voices, skillfully reproducing horns, woodwinds, guitars, and beatboxes. There's no drama, conflict, action, or character development. Instead, we are treated to a series of medleys, unrelated through cause and effect but arranged to provide variety of tone and an escalating sense of excitement. Think of a circus and its program of varying acts or a fireworks display composed of voices instead of gunpowder.
"Voca People" boasts many highlights, including a brief history of human music that progresses from caveman grunts through classical music to hip-hop, a witty medley of movie theme music, a phenomenal mouth-percussion battle, and a delicious rendition of Queen's "Bohemian Rhapsody," complete with a note-perfect mouth-guitar solo. At least a third of the show is given over to audience participation, with Voca People constantly streaming offstage to involve audience members in the wacky proceedings. Angle for front row or aisle seats and chances are you'll become part of the action.
The entire cast is first-rate, but I particularly enjoyed the work of Mercer Boffey and Tiago Grade as Beat On and Scratcher, the mouth percussionists; Jermaine Miles as Tubas, a gentle giant; and Laura Dadap as Alpha, Tubas' diminutive but feisty girlfriend.
Shai Fishman's exceptional vocal arrangements are as responsible for the piece's success as any other element. Credit must also go to Naor Ben Meir, whose sound design makes each voice clear and distinct, and Hana Yefet, whose dazzling costumes—made up of white clothing, white gloves, white head-covering cowls, white clown makeup, and vampire-red lipstick—render plenty of visual interest.
As much fun as "Voca People" will be for most audiences, it is not for everyone. From time to time its humor becomes corny and juvenile, making the enterprise seem more like an episode of the children's television series "Teletubbies" than a hip entertainment in the Blue Man Group mold. However, for those seeking an original novelty act that takes its craft seriously and dispenses nonstop musical candy, "Voca People" will be catnip.
Presented by Doron Lida, Revital Kalfo, Leeorna Solomons, and Eva Price at the Westside Theatre (Upstairs), 407 W. 43rd St., NYC.
Opened July 12 for an open run. Mon., Tue., and Fri., 8 p.m.; Thu., 7 p.m.; Sat., 3 and 9 p.m.; Sun., 2 and 7 p.m. (212) 239-6200, (800) 432-7250, or www.telecharge.com. Casting by Clemmons Dewing Casting/Joy Dewing.