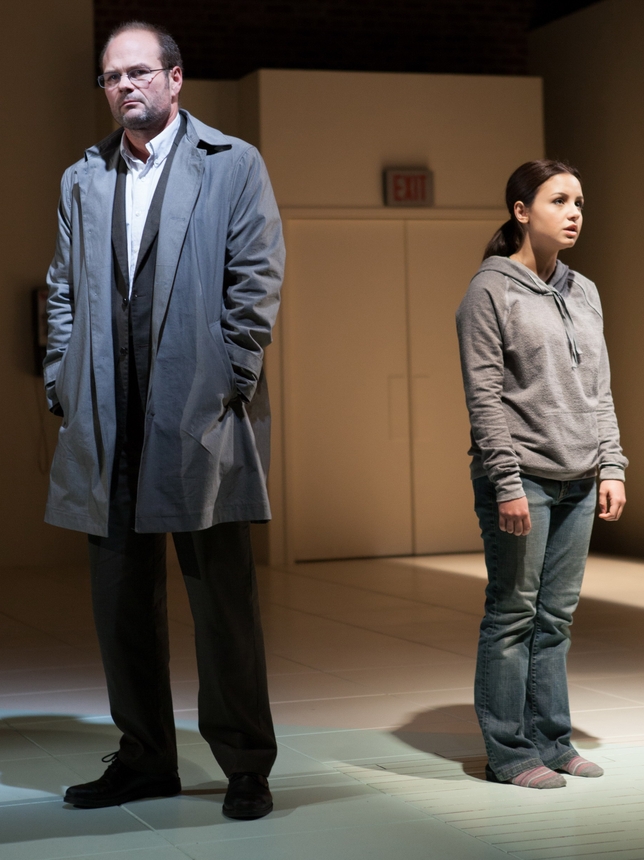 The quirk quotient is dangerously high in Melissa James Gibson's "What Rhymes With America," a rather sketchy collection of scenes in search of a play. As this is my introduction to the work of this Obie winner, author of such acclaimed shows as "[sic]" and "This," perhaps she's just having an off day. Her current play, alas, is a thin, archly self-conscious, awfully dreary look at a largely random quartet of unhappy people that plods dully by in 75 long minutes.
Unemployed economist Hank is in the middle of a nasty divorce and being kept away from his teenage daughter, Marlene, by her mother, for whom Hank nevertheless still moons, even though his soon-to-be ex hates him. When Marlene isn't composing morose existential ditties on her guitar or struggling with school, she volunteers at a hospital. When Hank comes there to try to see her, he meets the mousy Lydia, an out-of-work writer of medical copy and unpublished short stories whose father has just died, and decides to date her in an attempt to move on with his life. Then there's the driven Sheryl, who works alongside Hank as an opera supernumerary but longs to be a real actor. Longings, however, are not good things to have in "What Rhymes With America."
In his fifth collaboration with Gibson, director Daniel Aukin draws respectable performances from his four actors but can do little to mitigate the dramatic stasis. Chris Bauer brings intensity to Hank's bewilderment at the state of his life, effectively suggesting a sense of being permanently off balance, and is convincing in Hank's love for his daughter. Aimee Carrero does her best to vary Marlene's sullenness while emphasizing the girl's unease at being caught between her parents. As Sheryl, Da'Vine Joy Randolph freshens the sassy-big-black-woman stereotype and is subtle in her communication of Sheryl's shortcomings when delivering a scene from "Macbeth." Seana Kofoed has the hardest job as the synthetically odd Lydia, but she does manage to land some solid laughs during an awkward sexual bout between Hank and Lydia that ends in disaster.
The no doubt deliberately drab physical production—set by Laura Jellinek, costumes by Emily Rebholz, lights by Matt Frey—reinforces the depressive tone. The title makes a forced appearance during the final scene, when, as father and daughter conduct a conversation from opposite sides of an apartment's locked front door, Marlene asks it as a non sequitur, and Hank glumly replies, "Nothing." As "esoterica" springs immediately to mind, and Hank is portrayed as quite the word person, I haven't a clue as to what Gibson means by it.
Presented by Atlantic Theater Company at the Linda Gross Theater, 336 W. 20th St., NYC. Dec. 12–30. (212) 279-4200, www.ticketcentral.com, or www.atlantictheater.org. Casting by Telsey + Company/Will Cantler.
Critic's Score: D