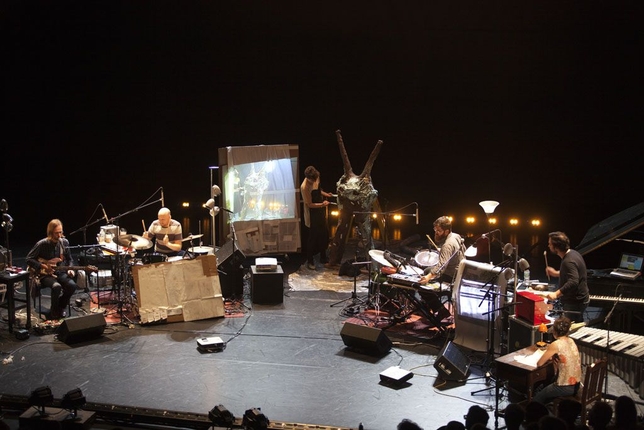 What does "home" sound like? In "Where (we) Live," the quartet of performers who make up Sō Percussion attempt to answer this question through various clattering auditory phenomena. Collaborating with songwriter Grey Mcmurray, who supplies vocals and guitar, the gentlemen of Sō have woven together a hypnotic tapestry of beats, blips, and tinkles. We're talking about the platonic ideal of "home," mind you, not merely the sounds of a house. The result is a transporting soundscape of percussive ambient noise, occasionally smoothed over by Mcmurray's bluesy crooning. Director Ain Gordon wisely adds only a few embellishments to the performance, seeming to understand the laid-back atmosphere that percussionists Eric Beach, Josh Quillen, Adam Sliwinski, and Jason Treuting need to get comfy.
With cords, drum kits, and synthesizers strewn everywhere, the stage of BAM's Harvey Theater suggests a ramshackle rehearsal hall more than a formal performance space. Another convention of "Where (we) Live" is that it invites a different artisan from another discipline to come create in the space during each performance. When I attended, ceramicist Paula Greif (aided by a dutiful uncredited assistant) threw, sculpted, and painted intriguing pottery throughout. Sō's idea is to foster a sense of artistic community and see how the unrehearsed simultaneous activity will affect the already off-kilter rhythms of the piece. I felt a little gypped, despite Greif's obviously expert craftsmanship, but only because creating pottery is a relatively quiet art. Some of the other visiting artists, like blacksmith Marsha Trattner, seem more likely to notably add to the marvelous cacophony.
Another charming improvised aspect sees Emily Johnson pass messages via tiny scraps of paper to the musicians while they are playing. After receiving a note, the musician in question may leave his instrument and either stroll into the audience or simply give Johnson a hug. M.C. Schmidt further furnishes the proceedings with quaint videos that play on four screens. These artful movies depict tiny details of home life—a radiator, a humidifier shaped like an elephant, a doorknob twisting open—all made somehow stately by their inclusion. During some of the songs, Quillen meditates on the places he's lived in heartfelt monologues, such as the one delivered in the lilting opening piece, "This Place the Place."
But any stage business is purely atmospheric support; the real focus is Sō's entrancing music. The fun of having four well-equipped percussionists on stage (as well as synthesizers) is in figuring out where each uniquely produced noise is coming from. Within the rich and multilayered song "Five Rooms Down," it took me a long time to realize that the familiar clicking I was hearing was actually from Schmidt's video of a gas-range stove being turned on an off. Mcmurray's aloof singing of the final meandering line offers a perfect coda to this thoughtful, loosely structured evening about finding a place to belong: "Thank you for letting me know that there are people out there that can get you better than you thought you could be gotten."
Presented by Brooklyn Academy of Music as part of the BAM Next Wave Festival at BAM Harvey Theatre, 651 Fulton St., Brooklyn, N.Y. Dec. 19–22. (718) 636-4100 or www.bam.org.
Critic's Score: A