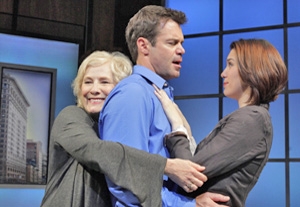 Playwright Ben Andron sets "White's Lies" in motion on a somber note, as Mrs. White (Betty Buckley), facing terminal cancer, tells her womanizing son, Joe (Tuc Watkins), that her only regret in life is not having a grandchild. And though this smarmy attorney would like to make his mother happy, it would mean he'd have to stop bedding a different woman each night. His quandary disappears, however, when Barbara (Andrea Grano), a onetime girlfriend who wants to hire him to handle her divorce, appears with her 20-something daughter, Michelle (an effervescently poised Christy Carlson Romano). Joe suddenly hits upon the idea of passing Michelle off as his long-lost daughter. Although Barbara has never forgiven him for their breakup—she caught him in bed with two of her sorority sisters—she agrees to the plan when Joe says he'll waive his fee for handling her case.
There's comic gold to be had in this scenario, and occasionally Andron finds it with flair. More often than not, however, he squanders it with banal jokes and the unconvincing complications that arise as Joe becomes increasingly desperate to cover his trail of lies. Ultimately, "White's Lies" too often plays like an icky echo of sex farces from half a century ago.
Thankfully, director Bob Cline has at his disposal a cast that dives unabashedly into the script's silliness. Buckley makes Mrs. White humorously brittle, and Watkins has just the right combination of good looks, charm, and oiliness to make Joe a vaguely likable cad. And though Peter Scolari, as Joe's partner, uses his pitch-perfect timing and gift for physical comedy with gleeful abandon, it's Jimmy Ray Bennett who proves to be the show's scene-stealer, playing, among others, Joe's fey, put-upon junior associate. Rena Strober also proves memorable as all of Joe's jilted one-night stands. Their work enlivens Andron's tedious, forced script.
Presented by Aaron Grant, Jana Robbins, Jeremy Handelman, and Craig Haffner and Karl E. Held, with Sneaky Pete Productions, at New World Stages, 340 W. 50th St., NYC. May 6–June 13. Mon., Wed.–Fri., 8 p.m.; Sat., 2 and 8 p.m.; Sun., 3 and 7:30 p.m. (212) 239-6200, (800) 432-7250, or www.telecharge.com.