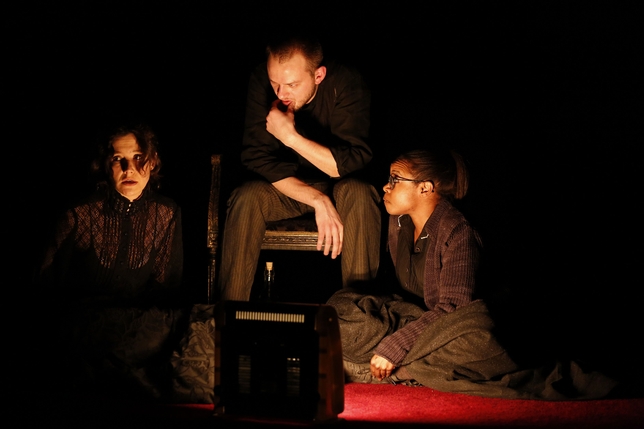 "Wild With Happy" is a misleading title for writer-performer Colman Domingo's new play at the Public Theater. In certain instances it is wild, as in the opening church revival scene, which feels like a combination of a praise chorus and an exorcism. In certain instances it is happy, as when everyone goes to Disney World. But the play itself is neither. A car chase involving a Cinderella doll and an urn sounds like a promising premise, but director Robert O'Hara can't infuse life into the one-note script.
Domingo plays Gil, a 40-year-old actor who can only land dead-end commercial work. Also, in case he doesn't mention it enough times in the show, he "lives in New York," which makes him an uptight, fashion-forward, impatient gay actor. Obviously. Gil's mother has just died, and he travels to his childhood home to take care of everything. There he meets funeral-home manager Terry, who tries to sell him a coffin, but due to his broke and emotional state, Gil goes for cremation (and also a one-night stand with Terry.) This rash decision dismays Gil's kooky, velour sweatsuit–sporting Aunt Glo, who is obsessed with tradition. (There needs to be a viewing! And a church! And a family get-together!) Gil, however, doesn't care about any of this, and he invites his even more flamboyant, fashion-forward gay friend Mo, also from the Big Apple, to help him cope. As Aunt Glo goes slightly klepto with her dead sister Adelaide's things, Terry randomly discovers that he has feelings for Gil, who runs off with Mo to take his mother's ashes to her happy place only to be followed by Terry and Glo.
Ultimately, each of these characters is a walking caricature, though the actors portraying them try valiantly to add dimension. Maurice McRae is hilarious as the lovable Mo, and he does showcase a softer, more vulnerable side of the character. Though both the roles Sharon Washington takes are one-dimensional, she plays them with grace and transitions between them with ease. (My companion for the evening didn't know that Adelaide and Aunt Glo were done by the same actor, which is a tribute to Washington's talent.) Korey Jackson is suitable as Terry, though he has very little to do onstage. Domingo comes across as exaggerated and forced, as if he feels a mounting pressure and is trying too hard to succeed. Though his character is uptight, his performance needs to relax.
Domingo has good intentions, but he doesn't make his audience as happy as he undoubtedly hoped.
Presented by and at the Public Theater, 425 Lafayette St., NYC. Oct. 23–Nov. 11. (212) 967-7555 or www.publictheater.org. Casting by Jordan Thaler/Heidi Griffiths.
Critic's Score: D+