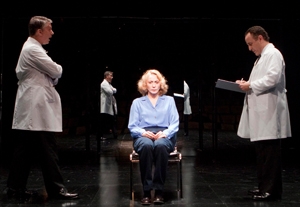 When the right emotionally expressive actor and the right creatively imaginative director meet, the results can be searing and soul-wrenching. That's what has happened with  Second Stage Theatre's revival of "Wings," Arthur Kopit's 1978 play about a woman relearning language and perception after suffering a stroke. Jan Maxwell and John Doyle have collaborated to create a harrowing portrait of a nightmarish world of illness and the slow road to recovery.
The brilliant conceit behind Kopit's compact 70-minute work, which was also made into a moving musical in 1992, is that it's told from the stroke victim's point of view. Emily Stilson, a former daredevil who walked on the wings of airplanes, is quietly reading a book when suddenly words and images rush at her in a bombarding kaleidoscope. White-clad figures ask her nonsensical questions, such as "What do you use to clean your teeth?" and "What is an overcoat?" She imagines she's been in a plane crash and is being held prisoner during wartime. Gradually, she realizes her condition and that she must discover the code for connecting the world around her with the means to express it, a code that not even her sympathetic therapist Amy can explain.
Through ingenious stagecraft, Doyle creates a theatrical environment that's the equivalent of having lost the ability to speak or think coherently. Scott Pask's utilitarian gray set is full of sliding doors and Venetian blinds, concealing and revealing the hospital staff at seemingly random moments. Peter Nigrini's jumbled projections, Jane Cox's quick-changing lighting, and Bray Poor's eerie and evocative sound design and original music combine to turn the Second Stage Theatre into a madhouse of confusing perceptions, re-creating for the audience Emily's torment.
At first it appears that Maxwell is too young to convincingly portray the character, as the role is so strongly associated with Constance Cummings, who played it in the original Broadway production and on public television, and Linda Stephens, who did the musical version. Both appeared older than Maxwell does here, but that concern soon fades. The actor delivers a stunning tour de force performance. To coin a phrase, she runs the gamut of emotions from A to Z-plus, ranging from blazing anger to pathetic terror to childlike confusion to final acceptance of her disability and whatever comes afterward, even death. Following her comedy antics in last season's "The Royal Family" and "Lend Me a Tenor," this performance firmly establishes Maxwell as one of our most versatile actors.
January LaVoy makes for a strongly sympathetic Amy. Teagle F. Bougere, Adam Heller, and Beth Dixon provide truthful insight as fellow stroke victims in a group-therapy scene. But this "Wings" is almost entirely a solo flight, and Maxwell soars to theatrical heights. 
Presented by and at Second Stage Theatre, 305 W. 43rd St., NYC. Oct. 24–Nov. 21. Tue., 7 p.m.; Wed.–Sat., 8 p.m.; Wed. and Sat., 2 p.m.; Sun., 3 p.m. (Evening performances Wed.–Fri., Nov. 3–5, 7 p.m.) (212) 246-4422, (800) 766-6048, or www.2st.com. Casting by MelCap Casting.