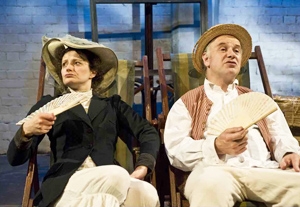 The acting from the four-person ensemble in "Wolves at the Window (and Other Tales of Immorality)," Toby Davies' adaptation of 10 short stories by the famous British writer Saki (pen name for Hector Hugh Munro, 1870–1916), is so sharp, with such plummy accents and funny physicality, that actors should hurry over to see it. Maureen Freedman's whimsical set, which makes use of a crooked hanging window frame, a number of coat trees, and a steamer trunk, among other odds and ends, and Thomas Hescott's inventive direction display the fun surprises for which Saki's stories are known.
If only the dramaturgy of the evening matched the individual moments—a theatrical way of saying if only the whole were greater than the sum of its parts—this would be an unequivocal critic's pick. But despite Davies' linking of stories through recurring characters, there's no greater through-line. Some of the links feel forced, with no payoff. With four actors playing multiple roles, and with set pieces playing multiple roles (Is it a table or a trunk? Is the ladder a tree now?), it isn't always clear who is who or where we are.
Saki's stories are often anthologized. "Tobermory," for example, the tale of a talking cat who shows he "knows too much" once he opens his mouth, is often a fiction-writing-class pick. Gus Brown as the cat shows irresistible aristocratic hauteur. Of course, creatures that know too much must be disposed of, even felines. Sarah Moyle as Dr. Appin, Tobermory's teacher, displays hilarious horror as the cat's appalled owners plot their pet's demise.
Most of the stories have a touch of the macabre. One of the funniest tells of a man enchanting two children on a train with a story of a "horribly" good little girl who is eaten by wolves. Jeremy Booth as the man lisps hilariously. Anna Francolini, who is comically annoying as one of the children, is also particularly fine as a pathological liar in another tale.
Like those of O. Henry, Saki's stories depend on twists, though they emphasize wit more than heart. But the tales take longer to stage than to read, and you might get ahead of them. Still, you've got to enjoy a play with a Latin-chanting goat and a feeble tiger.


Presented by Fledgling Theatre in association with Arcola Theatre, London, as part of Brits Off Broadway 2009 at 59E59 Theaters, 59 E. 59th St., NYC. Nov. 15–Dec. 6. Tue., 7:15 p.m.; Wed.–Fri., 8:15 p.m.; Sat., 2:15 and 8:15 p.m.; Sun., 3:15 and 7:15 p.m. (No performance Thu., Nov. 26.) (212) 279-4200 or www.ticketcentral.com.