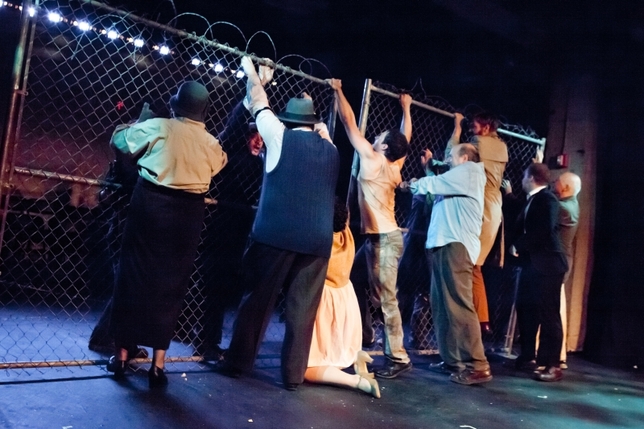 The Group Theatre, whose existence from 1931-1941 overlapped the Great Depression, stated its aim as "propaganda for a better life." Playwright Clifford Odets, along with Stella Adler, Sanford Meisner, and Lee Strasberg (all of whom became distinguished acting teachers) were among the Group's mainstays. The collective's heroes were the jobless and homeless working- and middle-class; its villains were management and the establishment.
Not all Group playwrights were as distinguished or revivable as Odets, though. "1931-" (the hyphen perhaps looking toward both an extended Depression and life for the theater company) was written by long-forgotten husband-and-wife collaborators Claire and Paul Sifton. The second Group play produced, it lasted 12 only performances. This production represents its first revival.
A young warehouse worker named Adam (a wonderful Stephen Dexter) is fired after a fight with his boss. Sure of his strength and ability, he promises his girlfriend (a sympathetic Kelsey Moore) that he will get a new job and they will marry. Instead, he becomes part of the American millions who is out of work and has no prospects. Adam and his fellow citizens live on bread and coffee from breadlines, sleep in parks and on the floors of church basements, beg for money and food, and lose their health, dignity, and in some cases their lives. The 11 other members of the uneven cast are playing multiple roles; among them, Pete McElligott has a standout scene as Fred, an unemployed friend whom Adam asks for a loan. Strong technical credits include the gritty set by Joseph Croghan and lighting by Sarah Riffle.
The ReGroup Theatre hopes to employ "1931-" and other old Group plays as a catalyst for more new American plays with similar political themes. But while there are many parallels between the Depression years and our current financial and social climate, Occupy Wall Streeters and other protesters still seem unlikely to storm the barbed-wire barricades and sing the socialist revolution anthem "The Internationale," as the workers are about to do here. Director Allie Mulholland has elected to mount "1931-" unchanged in any way, which is admirable and makes this earnest production interesting as both American and theater history. But over the course of an hour and 45 minutes, without intermission, the play becomes turgid by unrelieved repetition of its thesis. I suspect it was originally, as well.
Presented by the ReGroup Theatre Company at the Living Theatre, 21 Clinton St., NYC. Oct. 4-21. (212) 868-4444 or www.smarttix.com.
Critic's score: C+