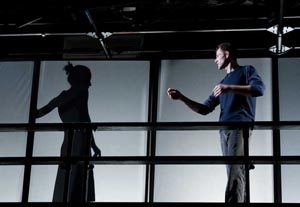 Mac Wellman makes Dixon Place his absurdist playground with "3 2's; or AFAR," a short, confusing meditation on obscure philosophy. According to the press release, the work is a reflection on Martin Heidegger's "Dialogue on Language Between a Japanese and an Inquirer," coupled with the presence of suspicious and abandoned footwear and an exploration of Japanese coquetry. It's experimental to say the least.
A young man (Quinlan Corbett) enters the stage dressed in a large headdress (the inventive costumes are by Normandy Sherwood). The man states he is a "puppet philosopher by trade." He recounts meeting a woman (Jocelyn Kuritsky), who is "the operator of a small puppet theater for children" in Park Slope, Brooklyn. The pair embarks on a philosophical adventure in a haunted puppet theater, assumedly the aforementioned one. When their backs are turned, eerie, black-haired, green-faced puppet people snicker and sneer around them. They wear designer Jan Leslie Harding's simple green masks on top of their heads, with ratty black wigs hanging in front of their faces.
Wellman calls these the Something/Nothing, a sort of doll that comes to life in the theater when no humans are looking. The Something/Nothings animate "abandoned footwear" on sticks, and a man's dress shoe and a hiking boot  take on life, discussing a variety of topics. The Something/Nothings continue to avoid the man and woman, and everyone speaks elliptically, never finishing sentences or thoughts. The work really lost me when the Something/Nothings start stomping and chanting a song called "Devil's Butthole," one of many odd musical numbers. Laura Diffenderfer's choreography is chaotic and almost indiscernible.
Corbett and Kuritsky's performances feel flat, though it's difficult to determine their characters' motivation as the work becomes increasingly unintelligible. As the Something/Nothings, Jan Leslie Harding, Sophie Nimmannit, and Chuja Seo are appropriately creepy and fully commit to the madness of the piece. Brian Aldous' lighting and Chris Giarmo's sound facilitate the foreboding environment. Shadow projections on a screen allow nice staging by director Meghan Finn, as the man and woman converse with the other's shadow, one of the production's more interesting moments.
However, as someone who has not read Heidegger's work, the piece makes almost no sense. I'm not sure reading the text would actually help.
Presented by Dixon Place, a Mondo Cané Commission at Dixon Place, 161A Chrystie St., NYC. Oct. 9-29, Thu.-Sat., 7:30 p.m. (212) 219-0736 or www.dixonplace.org.