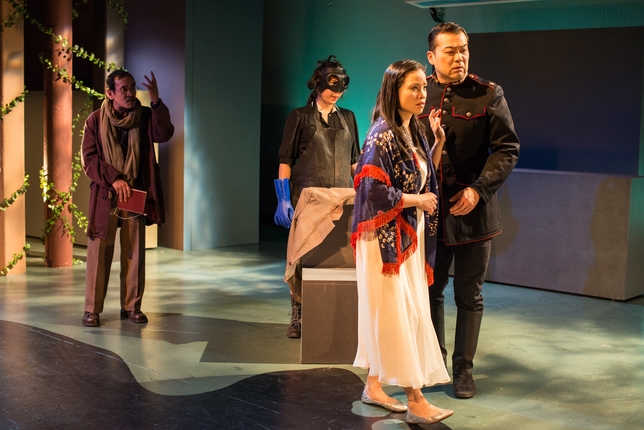 A beguilingly surrealistic adaptation, by Sung Rno and Andrew Pang, of August Strindberg's depressing 1907 play of the same title, "A Dream Play" leavens the drama's relentless negativity with abundant visual treats and snappy humor. The disjointed events of the piecemeal narrative don't form any cohesive story line, but when taken together they present a solid argument for the hopelessness of life.
Agnes, the daughter of a god, descends to earth to try to solve the mystery of human existence. Though mention is repeatedly made of life's inherent dichotomies—people are both good and evil, experience joy and misery, and what makes one happy torments another—each character and circumstance Agnes encounters provides additional evidence for an unbalanced duality, the notion that reality is skewed toward the dark, the glass is half empty, not half full. One would think that a production that spends an hour and 40 minutes setting up scenarios that lead over and over again to this same conclusion would be insufferable. Yet while its overall message stems from a weighty perspective, under the artful direction of Pang the intermissionless show whizzes by and proves perplexingly enjoyable to watch.
While the heavy text hammers away with pessimism and underlines its painful theme with the insistence that humans are to be pitied, along her journey Agnes meets up with delightfully absurdist figures who proffer the sort of quips that make you laugh, even though they really shouldn't. When a poverty-stricken wife, forced to live on cabbage, was told by her husband, "Cabbage is cheap, nourishing, and good; it's a super food," the audience roared. The play's unromantic view of love, indictment of law, ridicule of the pompousness of academia, and ironic claim that "the theater is dead" are presented through tickling satire made visually delectable by Alice Tavener's elegantly symbolic costumes, shrewd props, and some exquisite pole dancing by Rica de Ocampo. Characters sport pink ballet tutus over black suits, a celery stalk emerges from a sleeve, a daft but dapper stage door Johnny wears a handsome military uniform and black silk top hat, a fisherman is clothed in gorgeous tweeds, and warring professors madly criticizing each other's fields of study don British barrister-style wigs cleverly made out of rows of empty toilet-paper rolls.
Reflecting part of the mission of its presenter, the National Asian American Theatre Company, "A Dream Play" features an all-Asian cast. Of the 10 performers, all of whom play multiple roles, only a few are more than adequate actors. Brent Yoshikami brings a wonderfully warm, centered presence to his portrayals of both young and old men. Siho Ellsmore is hysterical as a gas mask–wearing cockney quarantine master. Alexis Camins makes an interestingly nuanced, well-intentioned attorney. Dax Valdes does double duty, creating an array of broadly drawn comedic characters as well as militaristic choreography for an ensemble of masqueraders in fur-and-feathered cat masks at a costume ball.
Presented by National Asian American Theatre Company at Here, 145 Sixth Ave., NYC. March 27–April 13. (212) 352-3101, (866) 811-4111, or www.here.org.
Critic's Score: A-