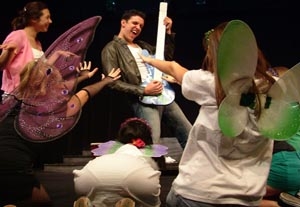 Who is this George Griggs and where has he been hiding? The program lists no credits for him, but the author of
A Midsummer Night's Dream, a Rock Musical
writes catchy and singable classic rock 'n' roll with strong hooks. Not obnoxious, angry, and show-offy as in
Spring Awakening
, but playful, '60s-style rock, the kind that might have been performed by Tommy Roe or Jan and Dean. It's full of melody and good will, and you can leave the theater humming it. His lyrics are functional and unShakespearean, but they complement the bubblegum good times of the music perfectly.
He's no slouch as a book writer either. Griggs dispenses with Shakespeare except for a couple of brief speeches for Puck and writes colloquial-modern, much as Donald Driver did decades ago with
Your Own Thing
, which this effort resembles in spirit. We're in contemporary New York, Hermia is the mayor's daughter, and the Bottom-Flute-Quince gang is composed of city landscapers with ambitions of becoming a wedding band rather than inept actors. Griggs wastes no verbiage, cutting to the songs as quickly as possible and letting them carry most of the narrative weight. His transitions could be smoother—"Come now, Titania, sing us a song" "Well, if I must"—and his song placement is erratic: There's no reason for Demetrius, here called Dmitri, to sing "You'll do until someone better comes along" to Helena when he's already in love with Hermia. But Griggs mostly knows what he's about and gives his cast multiple opportunities to ingratiate.
Oh, yes, the school-age cast: They're young, they're enthusiastic, and, alas, they're awfully raw. No one, certainly not director Paul Andrew Perez, seems to have instructed them in stage movement, they don't know from comic timing, and their voices are often too weak to carry above the orchestra, which consists of two unamplified guitars and the occasional bongo. Still, awkward, bespectacled Erin Nelligan gets some comic mileage out of Helena, and Matt Rodriguez's Lysander has the right rock-star narcissism and swagger.
This 75-minute
Midsummer Night's Dream
cries out for more-expert performers and more-assured (or just more) direction, but it does leave one eager to see what George Griggs tackles next.
Presented by Infinity Repertory Theater as part of East to Edinburgh 2009at 59E59 Theaters, 59 E. 59th St
.,
NYC
.
July 14
–
22. Schedule varies
.
(
212
)
279-4200 or www.ticketcentral.com
.