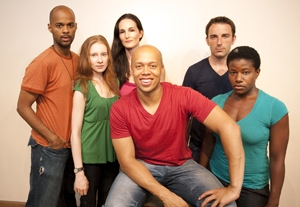 Playwright Kevin R. Free's post-racial comedy "A Raisin in the Salad: Black Plays for White People" takes its cue from George C. Wolfe's "The Colored Museum," presenting a series of interconnected sketches that skewer black playwriting and pop culture of the past 20 or so years. While there is some inspired hilarity, Free's uneven writing frequently misses the mark, aiming too broadly. Combined with director Christopher Burris' glacially paced production, it makes the show a sadly wearisome endeavor that's bolstered only by some fine performances.
  Highlights often come when Charlotte Cohn, playing Whitelady, comes to the fore. She, along with Samantha Debicki and Nicholas Job, who play Whitegirl and Whiteboy, is particularly grand in "A Brother Sighs," which deftly parodies the spoken stage directions found in Tarell Alvin McCraney's work. Elsewhere, Jennifer Nikki Kidwell as Blackgirl and Burris as Blackboy prove uniformly fearless in their performances, particularly when the play assails Tyler Perry's Madea movies.     
Presented by Bryan E. Glover in association with P4:13, Inc. as part of the New York International Fringe Festival at the Players Theatre, 115 MacDougal St., NYC. Aug. 13–23. Remaining performances: Fri., Aug. 20, 9:15 p.m.; Mon., Aug. 23 5p.m. (866) 468-7619 or www.fringenyc.org.