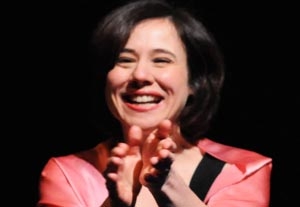 Don't be scared off; this is not a play about dance therapy. "A Time to Dance" is a sparkling one-woman show about writer-performer Libby Skala's great aunt Elizabeth "Lisl" Polk, an award-winning dance therapist and pioneer in the field of creative-dance education.
Rather than focus on professional accomplishments, Skala delves into the absorbing stories of Lisl's early life in Vienna as a member of a Jewish family during the years spanning the two world wars. The tales of her premature birth in 1902, the rise and fall of her father's fortune, her unhappy 27-year marriage, and the family's eventual emigration to the United States are told with abundant humor and an uplifting message of hopefulness and belief in the protective power of love.
A vivacious actor, Skala brings childlike exuberance and lots of freeform expressive dance movement to her poignant portrayal of an undaunted survivor.
Presented by Artistic New Directions as part of the New York International Fringe Festivalat the Lafayette Street Theatre, 45 Bleecker St
.,
NYC
.
Aug. 15
–
24. Remaining performances
:
Tue
.,
Aug. 18, 8 p.m
.;
Thu
.,
Aug. 20, 9:45 p.m
.;
Fri
.,
Aug. 21, 3 p.m
.;
Mon
.,
Aug. 24, 9:45 p.m
.(
866
)
468-7619 or www.fringenyc.org
.