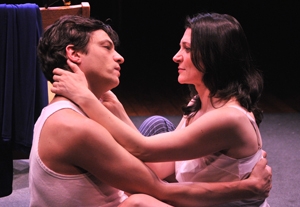 In "A World Apart," playwright Susan Mosakowski imagines the meeting of a contemporary Abelard and Heloise and considers how their story might be different in these enlightened times. This Heloise is an abbess of a cloistered order who longs for "the outside," and Abelard is a Benedictine priest who is also questioning his place in the world. In this 75-minute intermissionless play, important things happen with considerable alacrity, so the attraction between the two is almost instantly conceived.
Mosakowski's subject has an intrinsic interest at a time when all kinds of closet doors are being thrown open. Quite early on, just when you're imagining what Charles Busch might do with this material, the basic subject matter kicks in, and you begin to genuinely wonder what our protagonists—and the playwright—are up to. Ironically, however, for a story that's about faith, credibility gets stretched far too often in the telling of this tale.
Mother Augustina (Antoinette LaVecchia) has been questioning whether she is the right person to lead her nuns, represented by Sister Cornelia (Amelia Workman). While Augustina is grappling with these worldly issues, into her monastic life steps Father Daniel Byrne (Andy Paris), a missionary recently returned from Peru, who is grappling with the problems of being a priest. As their attraction warms, our constrained couple must consider whether this is true affection or just "murky lust." Daniel gives Augustina the present of a clinging blue dress, an object that practically becomes another character in the play. But when she leaves the confines of the cloister on a supposed retreat, she and Daniel experience a freedom that neither has ever known—and with it all the responsibility it entails. Stay tuned.
Mosakowski's cloistered order is surprisingly informal and her abbess is rather young and spirited, which is probably why LaVecchia's Augustina is a most attractive and articulate woman but a none-too-convincing nun. It doesn't help Workman that Cornelia isn't given much opportunity to be anything other than a sneak for most of the play. While Father Daniel may be the most believable character, Paris still has to utter things like "I'll never let you go!"
Occasionally there are moments when Mosakowski and the cast, under Jean Randich's direction, get it right. Augustina's discovery of "the finite" is one. Would that there were more.
Presented by and at the Flea Theater, 41 White St., NYC. Feb. 6
–
26. Wed.
–
Sat., 7 p.m. (Additional performance Tue., Feb. 15, 7 p.m.) (212) 352-3101, (866) 811-4111,
www.theatermania.com
, or
www.theflea.org
.