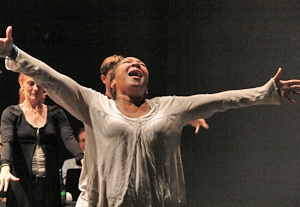 There is a lot going for "Above Hell's Kitchen," composer-lyricist-writer-star Jonathan Spottiswoode's hard-driving musical about art, love, sex, and rock 'n' roll among Big Apple hipsters. The small cast delivers full-bodied performances and possesses impressive vocal skills. Hayley Finn's direction makes imaginative use of the intimate TBG space, with the aide of Shawn Duan's clever projection design. Spottiswoode's score features several memorable numbers, particularly "This Love Will Make You Strong," a powerful rock ballad movingly delivered by Yasmeen Sulieman.
Unfortunately, the book is a convoluted mess peopled by urban stereotypes. It seems as if the author had a bunch of great songs and constructed a faulty clothesline to hang them on. The story focuses on aspiring rock musician DJ (Spottiswoode), who is unable to remain faithful to his photographer girlfriend, Isabel (Sulieman). Hovering around the edges are DJ's alcoholic therapist (Andrea Frierson); his swishy gay manager, Gary (George Merrick); a rich bitch named Ethel (Elizabeth Ward Land), who demands sexual favors from DJ in return for financing his career; and Isabel's previous boyfriend Charley (Justin Badger), a mountain-climbing enthusiast. The clichéd plotline follows the tired old theme of art versus commerce, with DJ selling out for Ethel's largess and Isabel following her dream without sacrificing her principles. There are also stale observations on the nature of love and the differences between the sexes. Just as it seems the show is going to conclude predictably, things take a weird twist, with one character suddenly dying—nobody is particularly affected by it—and a supernatural element being introduced at the last minute from out of nowhere.
Despite his weakness as a storyteller, Spottiswoode displays talent as a songwriter and actor. As noted, the songs have variety and charm, and his performance as the devilishly attractive DJ is fun and fresh. The rest of the company each have a moment to shine. In addition to the professional cast, the score is put over with savvy and spunk by Spottiswoode's band, Spottiswoode and His Enemies. Too bad all this promise is in the service of a flimsy plot.
Presented by La Vie Productions as part of the New York Musical Theatre Festival at TBG Theatre, 312 W. 36th St., NYC. Oct. 7–17. Remaining performances: Wed., Oct. 13, 4:30 p.m.; Fri., Oct. 15, 8 p.m.; Sun., Oct. 17, 1 p.m. (212) 352-3101, (866) 811-4111, or www.nymf.org. Casting by Geoff Josselson.