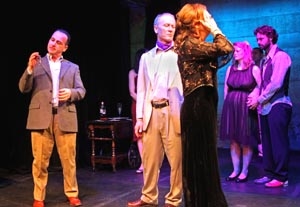 When you adapt, revise, or riff on—some churls might say "rip off"—a classic play, it helps to incorporate the original author's soulful connection to his or her characters. In the case of Anton Chekhov's "The Cherry Orchard," particularly acute attention must be paid to the pathos inherent in his fading and unrealistic landed gentry. They should not be rendered as mere objects of satire and pity, but rather as flesh-and-blood human beings who may have stayed too long at the fair but still feel in their bones that it's their fair. Chekhov creates sympathy for these often ridiculous people, along with ambiguity about their fate.
John Strasberg, who also directed and takes an onstage role in this update, has succeeded in modernizing Chekhov's plot points. There are references to Bernie Madoff, global warming, and email, and power saws cut down the trees instead of axes. Strasberg also hews to the general outline and premise of the original, but as both writer and director he  fails to make us care about his large cast of characters or even relate to them.
In Strasberg's version, the family estate is in present-day western Massachusetts instead of late imperial Russia, and the crop grown there is apples rather than cherries. The patronymic, bizarrely, is Adams. Strasberg has even named the character he plays—the pot-smoking, loquacious wastrel uncle—Johnny Adams. He does give the man the nickname "Duke" in the program, possibly to stave off a slander suit from any descendents of our second president, but no one ever calls him that.
As befits a play inspired by "The Cherry Orchard," the two central characters are 20th-century equivalents of Mme. Ranevskaya and Lopahin: Elizabeth Adams, the estate's 50ish spendthrift chatelaine, and Donald Volkowitz, the self-made millionaire and son of a former immigrant employee on the property. Cheryl E. Grant as Elizabeth and Dennis Davies as her frenemy (hey, I can be "modern" too) Volkowitz are both very good. So is another veteran, Louis Vuolo, as the shuffling, elderly retainer, a welcome throwback to Chekhov's original, Firs.
Had the rest of the cast been up to the standard set by these three actors, the play's flaws might have been better hidden. Among those weaknesses is a happyish ending, in which every character's fate is delineated even when unearned, much as in the finale of a prime-time soap.
Presented by Accidental Repertory Theater at the Living Theatre, 21 Clinton St., NYC. May 8–June 5. Thu.–Sat., 8 p.m.; Sun., 7:30 p.m. (212) 868-4444 or www.smarttix.com.