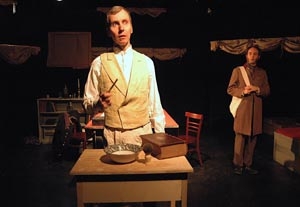 In Timberlake Wertenbaker's richly layered
After Darwin
, theories of natural selection and survival of the fittest are discussed not only in relation to the evolution of animal species but also to human lives.
It centers on the rehearsals for a new play that follows Charles Darwin from the moment he signs up for his fateful voyage to the Southern Hemisphere until he's ready to publish
On the Origin of Species
. Amoral and ambitious Tom (Benjamin Ellis Fine) plays Darwin in the play within the play. Opposite him is Ian (Jonathan Tindle), an actor dedicated to his conscience and theater, as Captain Fitzroy, who hires Darwin to be the ship's naturalist. The personality differences between Tom and Ian are reflected in the two-hander by African-American playwright Lawrence (Tarantino Smith), which the men are rehearsing under the direction of Bulgarian-born Millie (Heather Grayson). Fitzroy is a Tory with strong religious convictions, while Darwin is a Whig with a less fervent belief in the church's teachings.
Wertenbaker's play jets back and forth—on a handsome set by Rachel Gordon Smallwood—between the historical conversations in Lawrence's play and events in the artists' lives, raising questions about what people will do to survive and succeed in their worlds. It's a scenario that could become tediously schematic, but thanks to a host of twists and surprises,
After Darwin
never devolves into a mere intellectual exercise. In fact, Wertenbaker's efforts ultimately backfire when late revelations and developments throw the play dramatically over the top.
Under the steady hand of director John Hurley, the actors turn in impressive performances. Particularly notable is Grayson, whose work as the fiery émigré to the U.K. is powerfully moving. Although the final moments strain credibility,
After Darwin
is a play to be relished for its ability to provoke thought.
Presented by Impetuous Theater Groupat Access Theater, 380 Broadway, NYC
.
May 8
–
24. Thu
.–
Sun
.,
8 p.m
. (
Additional performance Mon
.,
May 11, 8 p.m
.)
(
800
)
838-3006 or www.brownpapertickets.com
.