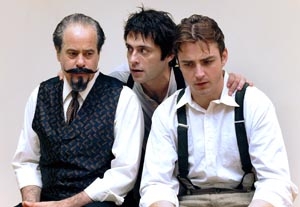 There is nothing funny, fantastical, or even mildly chilling about "Alchemist of Light," billed as a "comic thriller based on the life of cine-magician Georges Méliès." Written by Len Fonte and Tom Bisky, the wearisome play features an undistinguished and underrehearsed cast of nine directed by Sherry Teitelbaum.
As Méliès is considered the originator of the fantasy film, the show debates the consequences of taking audiences away from reality: Is it virtuous to let people escape the harshness of their everyday lives? Or is it a deceptive act that can lead them to embrace life-ruining risks? Aside from some impressive stage combat by actors Tom Lock and Lucas Miller, the only engaging elements of the production are the brief clips from Méliès's famous 1902 film "A Trip to the Moon." And if watching an actor pull the innards out of a dressed goose is something you'd prefer to avoid, stay home.
Presented by Prose
+
Content as part of the New York International Fringe Festivalat the Connelly Theater, 220 E. Fourth St
.,
NYC
.
Aug. 15
–
29. Remaining performances
:
Wed
.,
Aug. 19, 7:45 p.m
.;
Fri
.,
Aug. 21, 7 p.m
.;
Tue
.,
Aug. 25, 4:45 p.m
.;
Sat
.,
Aug. 29, 6:15 p.m
.(
866
)
468-7619 or www.fringenyc.org
.