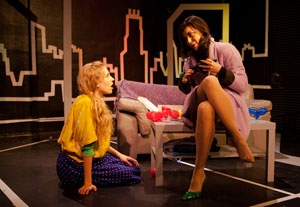 Set designer Starlet Jacobs' white-tape outline of the Gotham skyline represents the faint dream that so many immigrants have of Manhattan. However, without proper legal permission to enter the country, a dream is what it remains. Those rectangular shapes hold the land of opportunity, and Saviana Stanescu's immigration drama wisely paints both the fantasy and the reality inside the lines. The city slowly disillusions her characters, and she highlights the real problems facing immigrants in America today. The issue is obviously very close to Stanescu's heart, as she was born in Romania and founded Immigrant Artists and Scholars in New York. Unfortunately, this connection makes the play come across as agenda-pushing, and her characters are doomed from the outset.
Circus artists Nadia and Borat come from Moldova to the United States to try to make a living as clowns. Faced with deportation, the pair splits up. They adopt the names Ginger and Steve and move to New York City, where they hope to remain anonymous. Borat moves in with his Albanian friend Bob in Queens and works as a black-market cab driver, while Nadia finds a room for rent in Washington Heights with the green card–holding Lupita, from the Dominican Republic. Lupita and Nadia forge a likely friendship, as they are both immigrants and in the "entertainment industry." (Lupita is an aspiring actor who works as an exotic dancer.) Amidst Nadia's unfolding immigrant saga—disenchantment, poverty, abuse—two Immigration and Naturalization Service agents lurk in the background. This duo provides a sort of unexpected comic relief, and while their interruptions can be jarring at times, they portray a necessary truth.
As Nadia, Gabrielle Young delivers a subtly physical performance, and even the smallest movement displays her disposition for clowning. (It helps that costume designer Erica Evans has her wear striped tights, one of many literal costumes.) I honestly believed that Richard Zekaria's Borat was a shady cab driver from Queens. Abby Rockwell Savage has a magnetic quality as the sensual Lupita, and she displays the character's inner turmoil gracefully. Debby Brand is the funnier of the INS agents, though Viet Vo does his best to keep up with her spot-on comedic timing. Douglas Rossi does what he can with the fairly flat part of Bob and has the lazy-deadbeat act down pat.
Stanescu's characters are a step away from stereotypes, but she finds identifiable traits in each of them. And by allowing the system to "win," Stanescu makes an impactful statement about the power of bureaucracy and the difficulties facing immigrants today.
Presented by Ego Actus at Theatre 54, 244 W. 54th St., NYC. Nov. 2–20. Wed.–Fri., 8 p.m.; Sat., 5 and 8 p.m.; Sun., 3 p.m. (212) 868-4444 or www.smarttix.com.