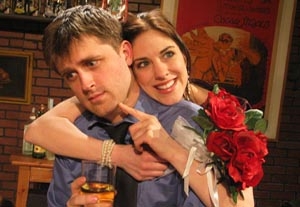 The set design by Marco Marcante seemed promising: a prewar Manhattan apartment living room with only a partial view and well-used furniture rather than some sleek urban contemporary number with a granite-top kitchen that no one uses except to make coffee or empty ice cubes. Perhaps the apartment's two denizens would not be a "modern" couple whose disagreements are on display in full shrew mode. No such luck.
Sean (Nick Coleman) and Amy (Jessica Moreno) have just come home from a wedding. She was a bridesmaid and caught the bouquet; he snagged the garter. The event, well fueled with adult beverages, induces the couple, who have lived together for nearly three years, to talk at high-decibel levels about marriage. He's against it, and as a New Yorker writer has said so at length in print. He also doesn't want children. She, an elementary school teacher in Queens, is feeling external pressure to tie the knot formally and lavishly, with lots of witnesses and the promise of progeny. Her reasons are sometimes silly: She's afraid her pupils will start asking her why she's still a Miss and not a Mrs. He's equally stubborn and sums up his intractable position thus: "How old do we have to be before they tell us marriage is a myth…Santa Claus for adults?"
Apart from their respective arguments being long-held and unyielding (and therefore tedious to outside observers), both characters demonstrate a credibility problem early in the play. He cites Oscar Wilde as saying that marriage takes the essential mystery out of love. She replies, with the confidence only a virago can muster, that Oscar Wilde was never married, so what did he know? In fact, Wilde was not only married, he fathered two children. A humor columnist for the New Yorker should know this. So should a schoolteacher, and certainly playwright Matt Morillo should. Morillo, who also directed, has his supposedly literate leading man also say things such as "Me and Amy are going to Las Vegas" (to his mother on the telephone). And Amy's biggest laugh comes when she shouts: "Your mother's ugly!"
The actors may not be at fault here, as they certainly deliver their characters as written and seem to feel comfortable playing them. But ultimately this play is as charmless as its title.
Presented by and at Theater for the New City
,
155 First Ave
.,
NYC
.
April 23
–
May 16. Thu
.–
Sat
.,
8 p.m
.;
Sun
.,
3 p.m
.
(
212
)
868-4444 or www.smarttix.com
.