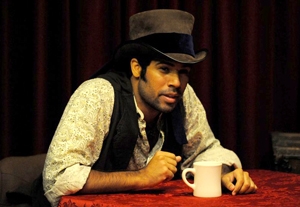 Writer-performer Ben Whiting is a sleight-of-hand artist who does a lot of cool things with cards, metal rings, cups and balls, and silk scarves. "American Gypsy" has an appropriately high gee-whiz quotient, but Whiting has woven his skillful illusions into a one-man performance that celebrates the ineffable connection between artist and audience and between mentor and protégé. The mentor in this case is a grizzled veteran based on the legendary Jim Cellini, who preferred busking on street corners to performing for royalty.
Whiting bases his performance on the sound premise that the best magic is the simplest. I have no use for magicians who traffic in big, bombastic stunts like making the Statue of Liberty disappear, but those damn cups and balls get me every time. The intimate nature of sleight of hand is a large part of what makes it so compelling; the tricks look so simple that you feel like you should be able to figure them out. And yet there's no Vegas slickness or Penn & Teller snarkiness here. "American Gypsy" is a rare bird indeed: a magic show with a heart.

Presented by MagicMouth Theatre as part of the New York International Fringe Festival at the Kraine Theater, 85 E. Fourth St., NYC. Aug. 22–29. Remaining performances: Tue., Aug. 24, 5 p.m.; Thu., Aug. 26, 11 p.m.; Fri., Aug. 27, 7 p.m.; Sun., Aug. 29, noon. (866) 468-7619 or www.fringenyc.org.