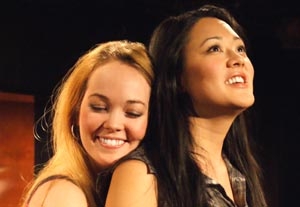 "This place is so sad," says foulmouthed, sexually provocative, hard-as-nails Lexi as she looks out over the Grand Canyon. And it's not long before we realize that the vast emptiness before her is intended to be symbolic of the emptiness within her.
Thanks to equations such as that, Trista Baldwin's new play "American Sexy," now in the tiny downstairs space at the Flea Theater, is rarely surprising in its look at four randy college students on a joyride to Vegas. Nevertheless, Baldwin's ear for contemporary speech and eye for telling character detail hold our interest as she examines the effect of today's numbingly oversexualized society and its soul-deadening infatuation with communications technology on these hapless youngsters.
The situation is simple enough. Hiding-in-plain-sight-lesbian Lexi loves her blond, buxom, and beautiful childhood friend Jessica, who is smitten with muscle-bound African-American cool dude Darren. Earnest, romantic Andy, infatuated with Lexi, wouldn't be tolerated in this hip group if he weren't providing the car and driving. After they decide on a whim to pitch tents and camp out for the night, the group's sexual tensions and teasing flirtations lead to self-destructive behavior and revelations of dark secrets.
What makes the show are the uniformly fine performances from Satomi Blair (Lexi), Nicky Schmidlein (Jessica), Ron Washington (Darren), and Scott Morse (Andy), all members of the Flea's resident acting company, the Bats. Blair, in the showiest role, never forgets to leaven Lexi's casual cruelty with an underlying ache, whether for Jessica or just about life in general. Blair's brief use of a clichéd Asian-American accent as Lexi imitates her mother, then speaks coldly of her as "not even a person," is chilling in its revelation of the girl's self-contempt.
Schmidlein never neglects Jessica's neediness, but she wisely balances it with the confidence this premed student feels in her intellectual abilities (even if Baldwin doesn't put them on display often enough). Schmidlein is particularly good with the yin and yang of Jessica's sexual brazenness and inherent modesty. Washington gives the cheerfully hedonistic Darren the necessary sexual allure and its concomitant self-centeredness; he's more in love with his cell phone than he is with any person. Morse probably has the most difficult task, but he makes Andy's awkward sincerity and open heart believable while still projecting convincing alpha-male vibes.
Director Mia Walker's intuitive direction knows when to linger and when to move, and she elicits fine ensemble playing from this talented quartet, who spend a lot of time acting between the lines, which is where the heart of Baldwin's play lies. Kate Sinclair Foster's minimalist yet evocative set and Katie Hartsoe's acute costumes aid the proceedings considerably, though the overreliance of Colin Whitley's sound design on driving contemporary pop and rap songs crosses over into cliché. He does, however, achieve a resonant moment when all the busyness is suddenly reduced to the gentle sound of crickets.
"American Sexy" resembles nothing so much as some of those shorter pieces Tennessee Williams would write when he was trying out stories, themes, and characters he thought might make a full work. That's probably why Baldwin has no success in finding anything resembling a satisfying ending. A sketch is not a play, but that doesn't mean there isn't one there. Baldwin just hasn't found it yet.
Presented by and at the Flea Theater, 41 White St., NYC. Jan. 29–March 6. Sat., 9 p.m.; Sun. and Mon., 7 p.m. (Additional performances Thu., Feb. 10, 9 p.m., and Tue., Feb. 22, 7 p.m.) (212) 352-3101, (866) 811-4111, or www.theflea.org .