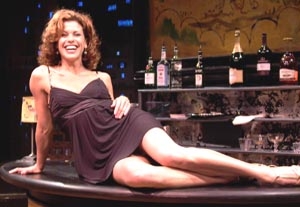 If only
An Evening at the Carlyle
were, in fact, at the Carlyle. Al Tapper's recherché songs would go down so much easier with a Courvoisier chaser. But scenic designer John McDermott does his darnedest to duplicate the Upper East Side nitery (to use a Winchell-era word typical of Tapper's vocabulary), and there are enough good numbers and likable performers to make most of the 80 minutes pass pleasantly. It's just a revue without any particular reason for being.
Say this for Tapper: He believes fervently in perfect rhyme. "This is a mecca/That's northeast of Tribeca" goes the first couplet, and later we get "Sukkoth/tuchis" (the
th
is pronounced as an
s
), among others. Having recently endured Dolly Parton's sloppiness in
9 to 5
, I found such fastidiousness downright refreshing. And Tapper's reminiscent melodies are at least easy on the ears, with a Gordon Jenkins kind of midcentury lushness. That's just the capable David Wolfson on the piano, but you'd swear there were strings.
But the whole thing feels so 1978—or older. In and out of McDermott's mockup of Bemelmans wander well-heeled barflies, famous and un-, under the watchful eye of bartender Tommy (Dennis Holland, with a lovely baritone), singing of whatever takes their fancy. An unsuccessful songwriter (Kelli Maguire, with a fetching belt) sings "I Hate Sondheim," though it turns out she hates him only because his shows "run for years." (Huh? There are better reasons for hating Sondheim.) No matter. Three songs later she decides she likes him, and sings another lyrically vague song about him. The whole song list is that scattershot. Though set in the present, the revue has musical homages to Joe DiMaggio and Frank Sinatra, with 1940s chords to match, and a salute to the "swells" who inhabit this world. Swells? Hey, it worked for Irving Berlin.
We also get impersonations of Liza, Barbra, Trump, and others—none very adept—kidded through rather obvious comic lyrics, though I did laugh at Amanda Gabbard's twitchy Ann Coulter. Interspersed with the wan humor are a couple of pretty good ballads and Holland's paean to "Brooklyn," which Marty Markowitz ought to consider adopting as a borough anthem. There's solid songwriting in
An Evening at the Carlyle
, but it's lite FM and not convincingly of today.
Presented by Algonquin Theater Productions at the Algonquin Theater, 123 E. 24th St
.,
NYC. Opened June 8 for an open run. Sun
.–
Tue
.,
7 p.m
. (
212
)
868-4444 or www.smarttix.com. Casting by Ten Grand Productions
.