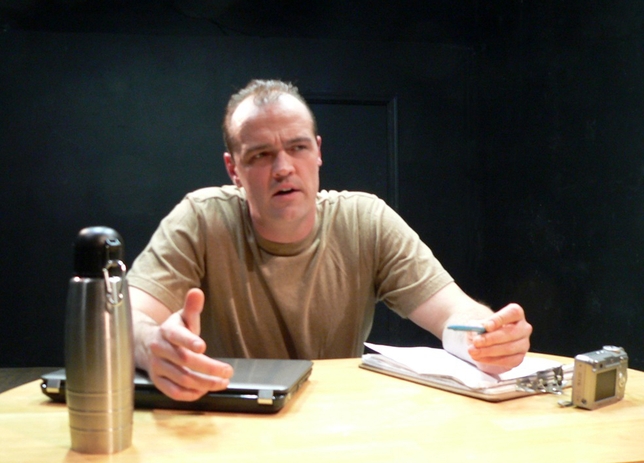 There are 17 "approaches" that the United States Army trains its interrogators to take with detainees, none of them involving physical violence; touching is not allowed. The interrogators who tortured the Iraqi inmates at Abu Ghraib obviously were breaking the rules. But as Mike Nowacki discovered as an American military interrogator in Iraq, the rules were not always a good guide through the reality, and even the gentlest of procedures had its chilling aspects: An interrogator is expected to smile at his detainee and do whatever necessary to get his detainee to smile back. The detainee eventually "either genuinely smiles or he fakes it; he's in no position to not smile for you."
In "An Interrogation Primer," director Eric Ziegenhagen turns an essay by Nowacki into a precise and fascinating work of theater. Sean Bolger plays the unnamed interrogator in a performance worth studying. He begins by apparently just describing the procedures matter-of-factly; every sentence in the play is put in the second person. ("You start by taking off his blindfold.") Yet the actor is able to shift, first into relating the character's own experiences and then subtly into revealing his ambivalent emotions. It feels as if the world not just of interrogation but of U.S.involvement in Iraq has been opened to you. That's all the more remarkable, as "An Interrogation Primer" lasts for only 35 minutes.
Self-presented as part of the New York International Fringe Festival at the Steve & Marie Sgouros Theatre,115 MacDougal St., 3rd floor, NYC. Aug. 11–26. Remaining performances: Sat., Aug. 18, 2:45 p.m.; Thu., Aug. 23, 8:30 p.m.; Sat., Aug. 25, 4:15 p.m.; Sun., Aug. 26, 2 p.m. (866) 468-7619 or www.fringenyc.org.
Critic's score: A