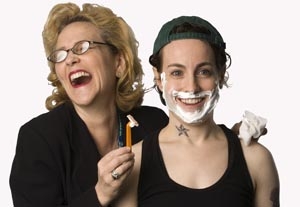 The quirkiness of Meryl Cohn's premise for "And Sophie Comes Too" initially inspires laughs, but unfortunately they fade.
A quick tryst between Barbara (Elizabeth Whitney) and Martha (Karen Stanion) goes bad when Martha discovers that Barbara's comatose mother, Sophie (Jacqueline Sydney), is lying in a bed in the living room. After Martha's hasty departure, Barbara's sisters—uptight Rose (Birgit Darby) from Connecticut and pre–sex change Sharon (Katherine Williams)—arrive. Their differences and squabbling amuse. But once Sophie has come to—courtesy of a miracle drug supplied by Rose—Cohn's comedy becomes overly diffuse and leaden as the fractured family attempts to remake itself in anticipation of the arrival of Barbara's adoptive child.
The performances, as uneven as the play, range from Sydney's unbearably campy turn as the newly maternal Sophie to the genuinely hilarious cameo from Susan Barnes Walker as Sharon's frustrated girlfriend. Stanion delivers sharp work as the ultimately needy Martha.
Presented by TOSOS as part of the New York International Fringe Festivalat the Cherry Pit, 151 Bank St
.,
NYC
.
Aug. 15
–
29. Remaining performances
:
Tue
.,
Aug. 18, 12:15 p.m
.;
Wed
.,
Aug. 19, 7 p.m
.;
Mon
.,
Aug. 24, 5:30 p.m
.;
Sat
.,
Aug. 29, 10:30 p.m
.(
866
)
468-7619 or www.fringenyc.org
.