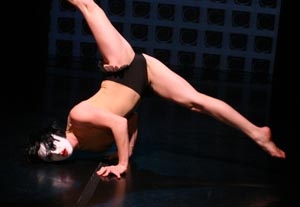 Appearing on stage wearing a pink bob wig and expressionless white face paint, dancer Anna Sullivan looks the part of a pixyish robot. But in her show "Anna and the Annadroids: Memoirs of a Robot Girl," she pulls off something altogether more human.
In her third appearance at the Fringe, this time as a solo artist, Sullivan channels the cyberpunk aesthetic to express the way sex and soulless plasticity have become shamelessly intertwined in modern media. But the way Sullivan uses her Annadroid persona exhibits a verve and wry humor (exhibited best in "Touchy Buttons") that make the often-conveyed expression much more personal and poignant.
With a mix of animation and sexualized advertising imagery projected behind her, the lithe performer dances and swings from ropes or silken sashes high above the stage. A kinetic techno score (which Sullivan wrote in collaboration with David Morneau and Forest Christenson) acts as a nice counterpoint to Sullivan's more emotionally driven choreography, especially with songs like "Love Dream."
The high point is Sullivan's graceful aerial work in "The Last Thread." Grace Passerotti and Natalya Kolosowski's graphic novel
–
style illustrations add a rich, dark hue to the background. Liz Harzoff's costumes, particularly for "Rewind-a-Spine," are sleek and evocative. 
Presented by Amerifluff Corporation as part of the New York International Fringe Festival at Dixon Place, 161A Chrystie St., NYC. Aug. 18–22. Remaining performances: Sun., Aug. 21, 8:15 p.m.; Mon., Aug. 22, 5:30 p.m. (866) 468-7619 or www.fringenyc.com.