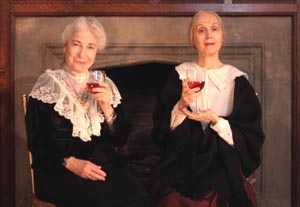 An energetic, responsive cast gets a lot of entertaining mileage out of this 68-year-old classic warhorse of macabre farce. Joseph Kesselring's play is stuffed with inspired comic business as it spins the tale of drama critic Mortimer Brewster, who suddenly discovers his two lovable old aunties like to poison lonely old men who come looking to rent a room in their comfy Brooklyn home. However, the script isn't foolproof. It needs a company of actors who can keep up with its antic pace without becoming tiresome. In this respect, this rendition by the aptly named Dysfunctional Theatre Company succeeds almost 100 percent, even letting you overlook the poverty-row production values.
A lot of credit goes to Rob Brown, who plays the increasingly frenzied Mortimer. He's a rubber-faced comic actor with an inexhaustible supply of double takes. And he exhibits some genuine chemistry with Jennifer Gill, whose Elaine, Mortimer's girlfriend, is nicely played. Brown's performance is also well complemented by Marilyn Duryea and Vivian Meisner. With apt comic timing they play the gently murderous aunties, who never allow anything to shake their belief in their own propriety. Adding solidly to the lunatic fun is Peter Schuyler's Teddy, Mortimer's brother, who believes he is Theodore Roosevelt, frequently bellowing "Charge!" as he rushes upstairs.
Director Eric Chase keeps most of the show perking at the appropriate farcical pace. Things occasionally get a little flat, though, after Jonathan, Mortimer's long-missing and criminally insane brother, shows up. Jonathan has his face periodically redone by his plastic-surgeon accomplice, Dr. Einstein, who in a misguided burst of inspiration has made the latest redo the face of Boris Karloff. This causes Jonathan to bristle whenever the resemblance is mentioned. It takes pitch-perfect mounting to make this character work without the casting coup that marked the original production, when Boris Karloff played the role. Here Justin Plowman, looking ominous but no Karloff look-alike, gives the role a too-real sense of menace.
Still, this is hardly fatal for a show, which makes vintage
Arsenic
a very palatable poison.
Presented by Horse Trade Theatre Group at the Kraine Theater, 85 E. Fourth St
.,
NYC. June 12
–
27. Thu
.–
Sat
.,
7 p.m
.;
Sun
.,
3 p.m
. (
212
)
868-4444 or www.smarttix.com
.