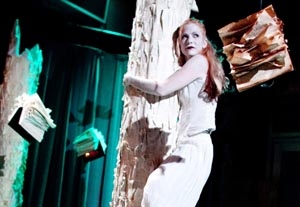 Let us try for a moment to find an effective shorthand in discussing a work such as
Art of Memory
, one of a growing number of pseudointellectual collaborative collages being presented as theater. These works generally have a high-concept physical production; you could place them in the corner of a museum and, strolling by, glean all there is to be experienced. In this case, amphibious nymphs dance around a fishing shack that opens into a lonely library. Perhaps
stroll-by theater
would be an appropriate moniker.
I think their creators would take issue, though. These works draw from literature, psychology, theory, and pop culture (here we have Brontës and Borges, among others). They are filled with meaning, but more often than not they have no point. This is not the same as saying their creators have no ideas. On the contrary, they have plenty of ideas; they have ideas about those ideas and ideas about those ideas about ideas. But rather than engage in that bit of creative violence that is making a choice, they've simply dumped all those ideas in one space. It's garage-sale theater, but without the appropriate bit of discounting. Indeed, this bland blend of self-importance and modesty bears the mark of that most benighted of modern-day species: theater of the theoretical grad student.
As theograd theater goes,
Art of Memory
is a particularly mild specimen. Its slight running time (under an hour) offers little in the way of text. Mainly, what we watch is a sort of ballet in which the choreography looks like an afterthought. Conceiver Tanya Calamoneri is credited with that choreography as well as with the direction and also performs as one of the nymphs. Too many cooks may spoil the soup, but too many hats can spoil the head. Writer Lisa Ramirez also appears, along with Heather Harpham and Cassie Terman, but it's impossible to judge performance ability from what is asked here.
One bright spot: Like most shows at 3LD,
Art of Memory
is beautiful to behold. Set designer Sean Breault supplies an enchanting mise en scène, Bruce Steinberg's rippling lighting effects are an ideal complement, and Matt Tennie's video projections fill the covers and pages of the library books with wit and wizardry.
After an initial baseline is established, it's just the same thing over and over again with diminishing results. At the end, the librarian escapes her shack by following a bridge of books to freedom. Perhaps she's entering reality; perhaps she's entering fantasy. From my vantage point, it looked like she was trying to beat the crowd to the lobby.
Presented by Company SoGoNo at 3LD Art & Technology Center, 80 Greenwich St
.,
NYC. July 20
–
Aug. 2. Thu
.–
Sat
.,
8 p.m
.;
Sun
.,
2 p.m
. (
Additional performance Wed
.,
July 22, 8 p.m
.) (
212
)
352-3101
, (
866
)
811-4111, www.theatermania.com, or www.3ldnyc.org
.