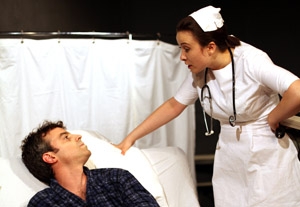 Thankfully, "As Is" is less timely than when it premiered in 1985, but it's still a damn good play. William M. Hoffman's drama remains a smart lesson in how to put a controversial, depressing topic like AIDS on stage, invest it with real people in real situations, leaven it with welcome humor, and teach the audience a thing or two that it may not want to learn. Apple Core Theater Company's production isn't ideal, but it mostly hits the right notes, and it's impossible not to be moved by the genuineness of the central love story.
That's between the newly diagnosed Rich (Jeff Auer), a despondent, hard-drinking poet and short-story writer, and Saul (Todd Michael), his easily excitable ex-lover, who takes charge when Rich's new boyfriend bolts in fear. These two share a long, believable history, and Hoffman artfully articulates their shifting emotions as they go through Elisabeth Kübler-Ross' stages of grief. He also presents a convincing, sometimes shocking New York milieu: the random, still-unsafe sex at clubs; the friends and relatives who don't know how to react; the rueful group therapy, uniting terrified victims from different backgrounds; the devastating physical deterioration and scant therapies then available (AZT, the best hope at the time, was just out); and the understaffed help hotlines. Hoffman gracefully moves time and space around—serving up different scenes simultaneously, breaking down the fourth wall, and knowing just when to inject a comic line into the bleakness.
Auer perhaps overemphasizes Rich's WASPyness, his clenched-jaw handsomeness masking too much emotion. At times I couldn't tell what Rich was feeling. Michael, on the other hand, is a marvelous Saul, admittedly a part that more readily allows self-expression. You can hear the tenderness and anxiety in every line and watch the shifting emotions cross his face. Brian Hopson is especially good as Rich's brother, leaning back in his hospital chair, timid to be breathing the same air as his stricken sibling. David L. Zwiers and Ryan Stadler are a funny pair of bitchy phone-line volunteers.
Some of the other actors, under Walter J. Hoffman's direction, could use reining in. Emily King Brown's hospice worker would never break down into such a screaming, sobbing heap, though the actor is admirably restrained in other roles. So are Jason Griffith, appropriately smarmy as Rich's shallow short-term boyfriend, and Jessica Luck as Rich's actress friend, self-centered yet caring and sympathetic when she has to be.
As one who logged three years as a Gay Men's Health Crisis volunteer, I can tell you the situation really was this ghastly, and humor was an essential survival tool. For those who lived through those years, this "As Is" is a sometimes uncomfortable but always worthwhile reminder of the difficult emotional terrain we traveled. For those too young to remember, it's a valuable lesson in how to cope in a crisis: with patience, anger, and love. A program note reminds us that there are currently more than 107,000 HIV-positive New Yorkers. So, sadly, "As Is" is far from just a history lesson.
Presented by Apple Core Theater Company at the Studio Theatre at Theatre Row, 410 W. 42nd St., NYC. Oct. 14-31. Wed.-Sat., 8 p.m.; Sat., 2 p.m.; Sun., 3 p.m. (212) 239-6200 or www.applecoretheatercompany.com.