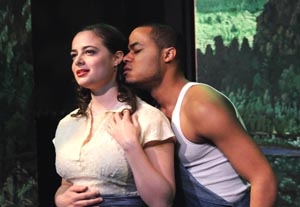 It was the second preview of Frog & Peach Theatre Company's
As You Like It
, and during the first half a dispiriting air of sluggishness hung over both the court of Duke Frederick and the forest of Arden. But then, in the second half, things snapped brightly to life. The actors seemed to gain in confidence, presence, and pace. They appeared finally to enjoy being on stage with one another, and their enjoyment was contagious. Even the rather rudimentary scenery took on a hint of woodland magic.
Don't get me wrong. This group of obviously uneven talents was not miraculously transformed into master purveyors of the Bard. But they did offer an entertaining rendering of Shakespeare's latter scenes, when sophisticated court folk banished to country life mix it up with the rustics. At the center of the mash-up is one of Shakespeare's most happily appealing heroines, Rosalind, disguised as the lad Ganymede for her sojourn into the woods. She's portrayed by Camryn Grimes, a Daytime Emmy winner for outstanding young actress in 2000 for her work in
The Young and the Restless
. The perky authority and sense of wit of her Rosalind grew throughout the show. By the time she delivered the epilogue, she was quite a charmer.
As the clown Touchstone, Lenny Ciotti's burlesque antics seemed labored at the start but eventually gained an infectious spontaneity. Sidney Williams delivered an amiable portrait of the melancholy Jacques and his deeply felt Seven Ages of Man speech was a highlight of the generally glum first half. Among others, Harry Oram was a well-spoken Orlando, and Monica Jones a flirtatious Celia.
What happened to account for this performance's split personality? Did director Lynnea Benson give her cast a pep talk at intermission? Did the actors realize the audience wasn't there to eat them alive? Who knows? To borrow from Oscar Hammerstein II, who can explain it? Who can tell you why? But it was an example of the ever-enticing unpredictability of live theatre.
Presented by Frog & Peach Theatre Companyat the West End Theatre, 263 W. 86th St
.,
NYC
.
April 19
–
May 10. Thu
.–
Sat
.,
7:30 p.m
.,
Sun
.,
3 p.m
.
(
212
)
868-4444 or www.smarttix.com
.