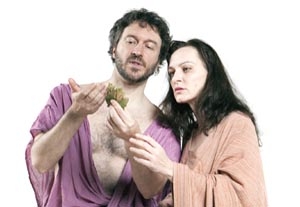 Asclepius
, which is subtitled "an epic opera," has all the hokey charm and good intentions of a 16th-century masque created by high school students. It is colorful, earnest, and on the nose, with explanatory lyrics, mostly dull music, uneven performances, and occasionally engaging spectacle.
Ellen Stewart, the guiding light of La MaMa, wrote, composed, and directed, with additional musical settings credited to Michael Sirotta; additional music credited to Heather Paauwe, Yukio Tsuji, and Sirotta; and Greek music composition credited to the wonderful Elizabeth Swados. Stewart—who came out before the show in a wheelchair to announce that because the National Endowment for the Arts has cut funding, the Great Jones Repertory Company will not continue—deserves accolades for all she has done for downtown theater over the years. Nevertheless,
Asclepius
is an oddity rather than a powerful event, rushing through so many episodes that none are involving. The story would be indecipherable without the summarized scene list in the program. Greek playwrights knew better: They picked an episode and got inside it, letting us feel the betrayals, ambitions, disappointed love.
The title character's ill-fated conception is the subject of Act 1, in which lustful Apollo (Perry Yung, a sad clown in a full mask with sun rays) impregnates the beautiful mortal Coronis (winsome Kat Yew, with a lovely lyric voice), then rescues his son from her dead body after Artemis (Allison Hiroto) shoots her. In Act 2, Asclepius heals people; is seduced unknowingly by his bewitched daughter, Panacea (Denise Greber); observes snakes and rescues the son of King Minos (Michael Lynch, with a bluesy, commanding voice); and finally becomes a demigod. Tiny Nayel Amira Nelson-Young, who plays little Hygeia, Panacea's daughter, skips with glee and owns the house.
Stewart's re-visioning of the La MaMa Annex—arranged horizontally, with the audience seated on what is usually the stage and the raked seating standing in for Mount Olympus, home of the gods—offers spectacle. Theodora Skipitares' Bunraku-like puppets delight (other puppets are by Jane Catherine Shaw), but they are not used with aplomb, and the choreography, credited to the company, borders on embarrassing. To sound operatic, the cast members often shriek, and prosaic lyrics make the characters seem stupid: "The child of Apollo/Is inside me/The child of Apollo/Is inside me." But if
Asclepius
lacks a clear point of view, it also lacks pretension, and that in itself offers some charm.
Presented by and at La MaMa E.T.C
.,
66 E. Fourth St
.,
NYC
.
May 31
–
June 14. Thu
.–
Sun
.,
7:30 p.m
.
(
212
)
352-3101
, (
866
)
811-4111, www.theatermania.com, or www.lamama.org
.