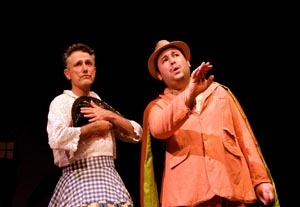 A blurb in Time Out New York provided in the press packet for the Little Lord Fauntleroys' production of "Babes in Toyland" quotes co-director and adapter Michael Levinton as saying the show is "in the tradition of the Ridiculous Theatrical Company." That's a fine tradition to aspire to; unfortunately, Levinton's deconstruction of Victor Herbert's classic operetta doesn't quite get there.
That's not to say there isn't fun to be had. You can't help but like the enthusiastic young performers in the cast, as variable as their work is. There's also the redoubtable David Greenspan camping confidently as both the Old Woman Who Lives in a Shoe and the Master Toymaker. Ironically, his finest moment is a tender, irony-free rendition of "Toyland." And the imaginative physical production for this "recession spectacular" is a gift that keeps on giving as Jason Simms' wonderfully tacky hand-painted scenery recombines in various configurations and Ásta Bennie Hostetter's inventive candy-colored thrift-shop costumes consistently amuse. (I was particularly taken with Contrary Mary's traveling outfit.)
Ultimately, there just isn't enough edge. The show feels too thrown together, and that prized but elusive high comic style never coalesces. Too many decisions come across as arbitrary, particularly in the presentation of the score, which at various times is played live on a tinny piano or an electronic keyboard, at other times prerecorded with various musical combinations, and occasionally performed a cappella. And why interpolate Leon Jessel's "Parade of the Wooden Soldiers" into Herbert's score—and without proper credit? Herbert wrote his own march, and it's a damn good one.
One musical idea that worked was to have Contrary Mary carry around a child's gaily colored tape player, on which she plays a cassette of the chorus singing a song about her or pops in another to accompany her own singing. Possibly that's because Laura von Holt's performance is a highlight: She grabs this bossy, narcissistic, preening adolescent and takes off. Whether stomping about in a huff or hiding behind a ridiculous French accent, she's a hoot. Sofia Jean Gomez is nicely boyish and smartly stylized in the pants role of Alan, the romantic hero, and she brings the house down with her response to the death of the evil Toymaker. Rodney Pallanck displays considerable versatility in his roles of Mother Goose, Antoinette the Toyland Doll, and co–musical director and accompanist.
The evening's ultimate problem may be in the choice of material. The show was once a classic and widely known, but that's not so true today. The last live-action film version was done by Walt Disney. It was heavily rewritten, turned the show into a musical comedy, and featured a wonderful turn by the great Ray Bolger as the evil Barnaby, a performance that would fit right in with the Fauntleroys. It was also made nearly 50 years ago. (There is an obscure 1997 animated version.) Certainly Glenn MacDonough's original 1903 book and lyrics have long since faded into the mists of time. How can you successfully deconstruct a text nobody knows?
Presented by Soho Think Tank as part of Ice Factory 2009at the Ohio Theatre, 66 Wooster St
.,
NYC
.
July 22
–
25. Wed
.–
Sat
.,
7 p.m
.
(
212
)
868-4444 or www.smarttix.com
.