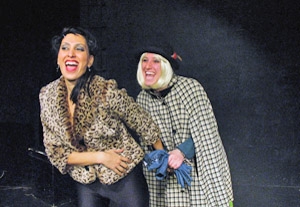 The placing of "Bail Out: The Musical" in Under St. Marks is most apt. For this satire with music about struggling Off-Off Broadway artists, you go down an unprepossessing stairway into a traditional black box where the audience shares the one toilet with the cast. But there is a cheery atmosphere, and you feel you are one with these avant-garde conspirators. You learn that because of these hard economic times, Off-Off-Broadway performance artists are in dire straits: Karen Finley is on a non-Equity tour of "Mamma Mia!." But then comes word of a possible government bailout for the performing arts. Written and performed by enterprising members of the Wreckio Ensemble, this satiric concept, which begins so promisingly, unhappily loses its way as it meanders toward a shopworn finale.
Enter Sept Ember, a bouncy girl who has traveled all the way from Wisconsin to meet her Off-Off-Broadway idols such as Violet Parfait. But there is only despair, until word of the bailout is announced. There are, however, stringent rules about the piece that will win the bailout money: It must be something "mindless to lift the spirits," which suggests a patriotic musical. Sept Ember, who was conceived in a prop cupboard during a community-theater musical, comes to the rescue. But won't the performers lose their avant-garde integrity? How to make something conceptual and subversive with sequins and tap shoes?
This is the point in the show where the satire should take wing, but, disappointingly, the ensemble of Wreckio writers seems grounded in a quagmire of conflicting ideas. We witness personal dramas and experimental efforts. One includes lots of string, mixing bowls, and German text; another involves the making of an apple pie. Here this likable group, directed by Kimberlea Kressal, seems to run out of inspiration. As the comedy becomes a confusing muddle, it's guilty of the very things it is meant to be sending up.
A pity, because the group, led by Randi Berry's bubbly Sept Ember and Dechelle Damien as an avant-garde Bernhardt, work so hard you want them to succeed. Alas, the script, all too clearly written by committee, does them in.

Presented by Wreckio Ensemble and Horse Trade Theater Group at Under St. Marks, 94 St. Mark's Place, NYC. Dec.9–20. Thu.–Sat., 8 p.m.; Sun., 2 p.m. (212) 868-444 or www.smarttix.com.