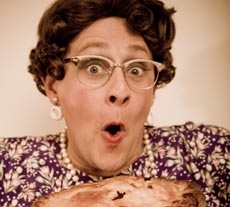 "Feeling bitter? Add butter!" proclaims Bertha Mason, a conservative, slightly macabre grandmother from Franklin, Minn., whose solo cooking show, "Baking With Bertha," delivers delightfully as described.
Mason is played by Michael D. Bowen; Sam Barber is the writer-director. In truth, though, the show is as much about the audience's appetite, for Bertha lures volunteers to make a pie crust, add apples, and whisk whipped cream into shape. Chuckle-worthy patter ensues, much of it off the cuff and cunningly clever. When not coaching the volunteers, Bertha relates familial tales, especially of Butterball, her "morbidly obese" grandson.
If "Baking With Bertha" is a diabetic no-no, it could also use just a bit more baking time: It's a mystery why Barber allows Bertha's familial tale to turn so dark. And if you're going to show a finished pie to illustrate the end product, why not share it? Bertha would
never
leave her guests hungry.
Presented as part of the New York International Fringe Festivalat the Players Loft, 115 MacDougal St
.,
3rd floor, NYC
.
Aug. 15
–
22. Remaining performances
:
Thu
.,
Aug. 20, 5 p.m
.;
Fri
.,
Aug. 21, 2:45 p.m
.;
Sat
.,
Aug. 22, 10:30 p.m
.
(
866
)
468-7619 or
www.fringenyc.org
.