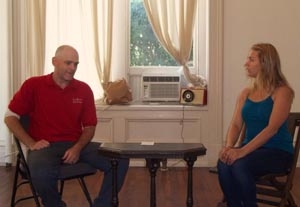 An Irish drama without alcoholism, Catholic guilt, or the IRA, Brian C. Petti's "Banshee" cuts to the heart of what ails this Hibernian family unit: an impossible matriarch. Kit Sullivan (Elisabeth Henry, overdoing it a tad), widowed and living in a Chelsea walkup, is disappointed with son Jerry (Brian Christopher) and makes no secret of it. Jerry, turning 40 and having suffered a recent nervous breakdown, wants life to return to normal and is helped by a well-meaning cop brother (Ron Morehead) and a flat-out wonderful girlfriend (Lauren Murphy). But it's these three against Mom, and Mom will stop at nothing to keep control, even if it means denying Jerry all chances at happiness.
Christopher plays Jerry quite touchingly as an appealing Everyman with a pure heart and a weak will. If the brogues and blarney are a bit thick, and the ending is too abrupt, "Banshee" is still admirably straightforward and ungimmicky, an old-fashioned kitchen-sink drama. Petti cites "Long Day's Journey Into Night" as an inspiration; he too is trying to make sense of his family's sad history. Eugene O'Neill he's not, but he avoids clichés and keeps us interested and rooting for Jerry to cut the Oedipal strings.
Presented by Cynthia Topps as part of the New York International Fringe Festival at the Clemente Soto Vélez Cultural Center's Flamboyán Theatre, 107 Suffolk St., NYC. Aug. 21–27. Remaining performances: Mon., Aug. 22, 5:45 p.m.; Wed., Aug. 24, 2 p.m.; Thu., Aug. 25, 9 p.m.; Sat., Aug. 27, noon. (866) 468-7619 or
www.fringenyc.org
.