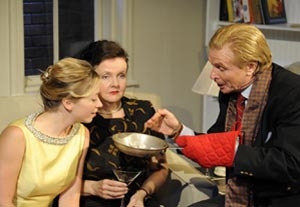 Kudos to the folks at Ground Up Productions for taking a chance on Neil Simon's
Barefoot in the Park
after 2006's lackluster Broadway revival. For all the dated references—the rotary phones, the determined bohemian feel, the lovable but dim heroine—the play still manages to crackle when performed at just the right pitch. And director Lon Bumgarner and his cast have found
Barefoot
's sweet spot, turning what has recently been denigrated as a charming period piece into something infinitely funnier and more human.
Of course, they're helped greatly by the postage stamp–size stage at Manhattan Theatre Source, a theater so small that the furniture that finally arrives for newlyweds Paul and Corrie Bratter in Act 2 serves as audience seating in Act 1. Being crammed into the Bratters' fifth-floor walkup as they struggle to remember why they love one another adds a dimension of reality that a larger Broadway stage could never achieve.
But
Barefoot in the Park
lives or dies by the actor playing Corrie, the carefree ingénue married to an uptight lawyer. Luckily, Kate Middleton is a knockout. Blessed with the pert blond good looks and slightly scratchy voice of one of the more interesting '60s leading ladies (think more Tuesday Weld than Sandra Dee), Middleton effortlessly delivers both Simon's zingers and his more emotional material, when Corrie begins to wonder if she's made a mistake in marrying Paul. Whether Corrie is giddy over having her own phone or asking for a divorce in the middle of a drunken fight, Middleton is nothing less than marvelous.
The rest of the cast aren't too shabby either. Brian Lafontaine wrings laughs with practically every line of dialogue he delivers as a telephone repairman; Amelia White is a joy as Corrie's dowdy mother, Mrs. Banks; and Guy Olivieri nails Paul's hesitancy to embrace life without stinting on his sense of humor. Paul's fights with Corrie are pitch-perfect examples of actors transforming a couple's inane bickering into hilarious banter. In shoes or barefoot, you should run to this particular
Park
.
Presented by Ground Up Productionsat Manhattan Theatre Source, 177 MacDougal St
.,
NYC
.
July 8
–
25. Wed
.–
Sat
.,
8 p.m
.;
Sat. and Sun
.,
2 p.m
.
(
212
)
352-3101
, (
866
)
811-4111, www.theatermania.com, or www.groundupproductions.org
.