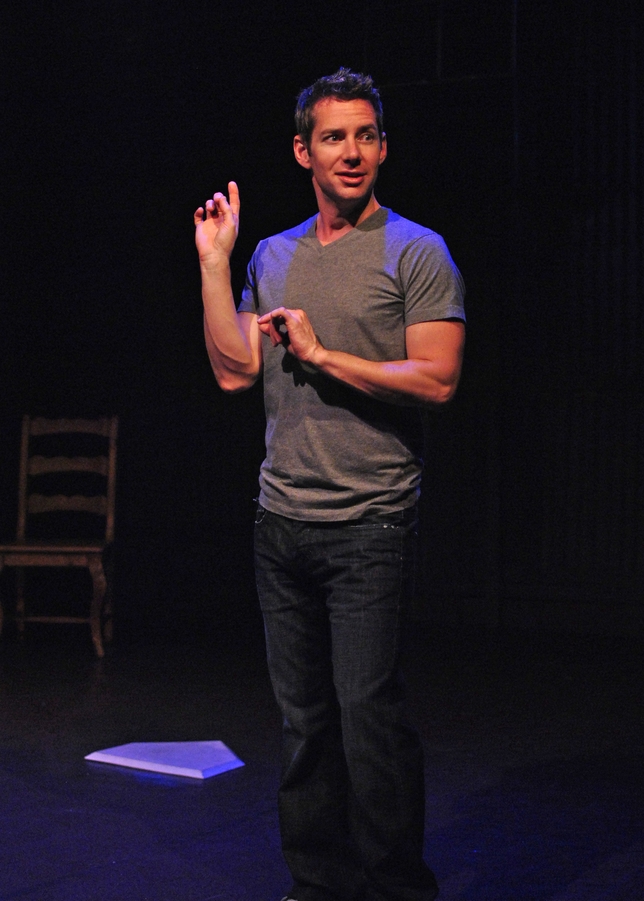 Actor-writer Vincent James Arcuri's "Becoming Butch," his one-man show in the New York International Fringe Festival, is a familiar tale of a gay man's journey to self-acceptance. But while there's nothing particularly new here, Arcuri is so personable and tells his story with such specificity and insight that the show is fresh, funny, and gently heart-tugging.
Arcuri was born in 1971 and grew up alongside three older sisters in a Catholic family in Queens, the only son of an Italian construction worker and an Irish stay-at-home mom. He preferred Barbie to baseball, was slight of stature with a high-pitched voice, and wanted to be an actor even as a child. Teased and bullied, he internalized so much homophobia that it took him until the age of 30 to finally feel comfortable as a gay man. Arcuri, however, doesn't dwell on the darkness in his journey, leavening it with plenty of warm humor. His impersonations of people in his life are done as affectionate caricatures, not realistic portraits, and prove highly enjoyable, especially the pretentious voice teacher he goes to at age 28 to deepen his voice and his wonderful account of his no-nonsense mother.
Ultimately, he learns that he doesn't have to become butch to be happy. He can just be himself. And having the strength to do that, of course, makes him as butch as they come.
Self-presented as part of the New York International Fringe Festival at the Steve & Marie Sgouros Theatre,115 MacDougal St., 3rd floor, NYC. Aug. 17–26. Remaining performances: Thu., Aug. 23, 6:30 p.m.; Fri., Aug. 24, 8 p.m.; Sat., Aug. 25, 5:45 p.m.; Sun., Aug. 26, noon. (866) 468-7619 or www.fringenyc.org.
Critic's score: A