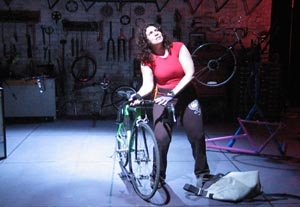 Even at a mere 60 minutes, Elizabeth Battersby's new one-woman musical,
Belle of the Ball Bearings
, threatens to outstay its welcome. For one hour she roams through an onstage bike shop as Bobby, a third-generation biking enthusiast, singing songs about fixing bikes (the aptly named "I Fix Things"), being a bike messenger, and the accident that has kept her from climbing back onto her bike. Unfortunately, she doesn't stop with Bobby. She also finds time to include wisps of songs sung by Bobby's Vietnam vet uncle, her rabbi uncle (who teaches a spin class), and her Scottish grandmother.
When she's singing or talking about the beauty of a bicycle or the freedom that comes from cycling in Manhattan, Battersby can be very evocative. But without an overarching plot,
Belle of the Ball Bearings
comes across as a not-very-engrossing concert of songs in progress. Most of the numbers—music by Youn Young Park, additional music by Gerry Dieffenbach, lyrics by director Caroline Murphy, and additional music and lyrics by Battersby—are extremely brief, though Battersby's the Bicycle Band provides splendid support throughout.
The biggest problem with the show is Battersby's insistence on making it personal. She talks and sings over and over about her wacky relatives, but she never expands on her rather astonishing statement that the bicycle has done more to liberate women than anything else in the world. Instead, we get a sliver of a plot about her fear of climbing back onto her bike after an accident leaves a pedestrian dead. But without a compelling reason to care about Bobby, her bike shop, or her family, it's difficult to conjure up much compassion—especially when Bobby keeps complaining about pedestrians. Unless you ride a bicycle in Manhattan yourself, sympathizing with one of those bikers who terrorize intersections is almost impossible.
Presented by and at Theater for the New City
,
155 First Ave
.,
NYC
.
June 6
–
21. Thu
.–
Sat
.,
8 p.m
.;
Sun
.,
3 p.m
.
(
212
)
868-4444 or www.smarttix.com
.