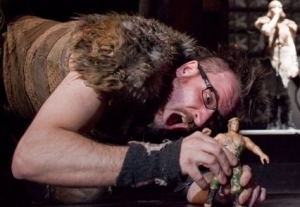 While stimulating in concept, Banana Bag & Bodice's irreverent "songplay"
Beowulf
:
A Thousand Years of Baggage
, an attempt to rescue the medieval epic poem from the suffocating tedium of academic criticism, is a theatrical misfire. To achieve its goal of presenting the heroic tale of Beowulf as a visceral adventure with a whiff of parody, the show needs an ensnaring dramatic structure, smarter writing, more-skillful direction, inventive choreography, and a set designed to support a wider variety of staging options.
Written by Jason Craig (who plays Beowulf) and directed by Rod Hipskind, with choreography by Anna Ishida and Shaye Troha, the production trudges predictably back and forth between static scenes of sitcom-level dialogue and banally staged musical selections, virtually all of which are enacted on a raised platform center stage around which the show's eight terrific musicians are sloppily arranged. In a well in front of the platform sits a panel of three "academics" (Beth Wilmurt, Jessica Jelliffe, and Christopher Kuckenbaker), who analyze the poem's themes ad nauseam and take on the roles of the three monsters Beowulf battles. In the hands of a writer with more-informed insights into the language of literary critics and a director more attuned to comic timing and the intricacies of stage business, this send-up of academic deconstruction could have been hilarious. Instead, only Wilmurt is even believable as an ivory-tower scholar.
Despite a narrative fraught with ferocious combat and gory results, the show's storytelling action is performed with bare-bones symbolic movements and laid-back energy that prove neither exciting nor funny. The production's savior is its brilliant musical score composed by Dave Malloy (who also directs the music and plays the role of the good though wimpy King Hrothgar). In wonderfully cacophonous arrangements for blaring trombones, booming percussion, wild guitar, and wailing horns and viola, Malloy's songs not only capture the raw, primitive sensibilities of the story's eighth-century Scandinavian setting and characters but also underline subtle elements of the drama through amusing use of familiar musical genres -- hard rock, traditional Middle Eastern tunes, rap, Broadway, 1960s folk, and vocal jazz.
Much of the music is sung by Ishida and Troha as a "chorus" of two warriors who represent all the armies in the story. They sing beautifully, with electrifying belts, in both tender solo passages and tight harmonies. Also magnificent are the show's period Viking costumes by Kaibrina Sky Buck and SF Buffoons (Eric & Riddle). With reindeer-fur pieces ornamenting matching ensembles of tights and belted tunics, they enhance the show's lighthearted efforts to bring Beowulf back to life in a hearty, down-to-earth fashion.
Presented by Shotgun Players at the Abrons Arts Center's Harry de Jur Playhouse, 466 Grand St
.,
NYC. April 5
–
18. Wed
.–
Sat
.,
8 p.m
.;
Sun
.,
5 p.m
. (
212
)
352-3101
, (
866
)
811-4111, www.theatermania.com, or www.beowulfnyc.com
.