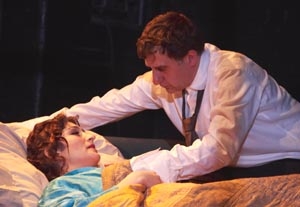 Like a cholent (a Sabbath stew) that's been boiled and spoiled, there are too many ingredients in Chana Porter's new play: The recipe includes some Isaac Bashevis Singer, S. Ansky, Stephen King, and "The Office," with a bit of Betty Friedan and an attempt at Pinteresque language thrown in. The result is theatrical indigestion.
A mysterious stranger calling himself Eli (MacLeod Andrews) arrives to work at the law firm of Watson and Cohen and turns everyone's lives upside down. At the house of Sam Cohen (William Tatlock Green) for Shabbat dinner and the night, Eli reveals to his boss that he might be the ghost of his dead-at-the-lakehouse-25-years-ago girlfriend, now inhabiting a male body.
At breakfast, while Sam is at shul, Eli convinces Sam's wife, Ruth (the luminous Olivia Rorick), that he might be an angel. He bullies her and apparently impregnates her with the baby she desperately wants (touched by an angel indeed). In Act 2, Eli upsets Sam's pregnant business partner, Renee (Tia Stivala). More secrets come out, but by then you likely won't care whether Eli is a sociopath, angel, demon, or ghost.
The term "besharet," usually spelled "beshert" in English, means "fated" or "destiny" and is applied to couples. This term and others (including the pretty well-known concepts of dybbuk and golem) are explained in the play in a heavy-handed way, when one character asks another about concepts in a book on kabbalah.
Director Scott Rodrigue's pacing lags, and Eric Berninghausen's set, which mixes evocative pampas grass with the "real" world, is silly. Still, there are some moments. Ruth and Sam argue about their marriage, and she shouts, "You are a dead end!" Porter's language suddenly leaps to life and there's a power there. It's disappointing to discover that there's a macabre "reason" for his turning away from her. An unhappy marriage in which the woman is allowed to create her own baby could be a mystical Jewish story. The ingredients are there. Too bad they're smothered.
Presented by AliveWire Theatrics at the 9th Space Theatre, 150 First Ave., NYC. March 7–27. Thu.–Sat., 8 p.m.; Sun., 3 p.m. (212) 352-3101, (866) 811-4111, www.theatermania.com, or www.9thspace.org.