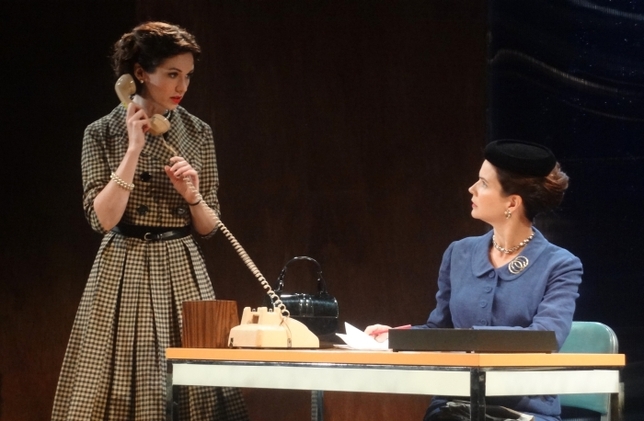 You might expect any stage version of a Joan Crawford film to be a satire in the style of Charles Busch, with a fabulous drag performer in the Crawford role. Adaptor-director Julie Kramer, however, opts for a more straightforward staging of "The Best of Everything," Rona Jaffe's best-selling 1958 novel about young women seeking love and careers while they toil as secretaries at a paperback publishing firm. Kramer adheres more closely to the book than 1959's Technicolor movie adaptation. Long before "Valley of the Dolls" and "Sex in the City," Jaffe's novel was something of a sensation because it honestly portrayed the sex lives of ambitious career girls, not all of whom saw marriage as their ultimate goal.
There's always the danger of imitation when a famous film is translated to the stage, but that pitfall is expertly avoided here. The movie drips with melodrama and today is little more than a campy hoot featuring Crawford at her most bitchy, but in this neatly packaged stage version, Kramer offers only a hint of parody. (For instance, at the office Christmas party the steno pool dances with male cardboard cutouts—indicating that their prospective boyfriends are identical and flat.) The director mostly presents the material without irony, so what emerges is an unflinching portrait of the sexual mores of the late 1950s in ultra-sophisticated Manhattan. Through this unfiltered perspective on the past, we see how women's lives have altered in the ensuing decades, yet that they are still held to different standards than their male counterparts.
The Crawford part, Miss Farrow, a ruthless editor carrying on an affair with a married executive in the company, is memorable but not the lead. The focus is on Caroline, a Radcliffe grad who is recovering from a broken romance and seeking to climb the corporate ladder along with the men; she won't settle for being a secretary or a discarded plaything. There's also needy and naïve April, gossipy Mary Agnes, flamboyant and unstable Gregg, and sarcastic Brenda. Rather than treat them as punchlines, the actors and Kramer present these characters as real women dealing with the constraints of their time.
Sarah Wilson seriously conveys Caroline's conflict between her heart and her job. Alicia Sable is a charming and sweet April. As the neurotic Gregg, Hayley Treider actually improves upon the wooden performance of the movie's Suzy Parker (the supermodel of her day). There's not a whiff of over-the-top Crawford in Amy Wilson's precise Miss Farrow; Molly Lloyd and Sas Goldberg are screamingly funny as the bickering Mary Agnes and Brenda, respectively; and Tom O'Keefe (who plays four roles) and Jordan Geiger are stalwart as the men who either use or woo the heroines.
The era is recreated with accuracy and detail through Daniel Urlie's stylish costumes and Lauren Helpern's economical, corporate set. Sound designer Jill BC Du Boff's soundtrack of period pop tunes, from the likes of Dinah Washington and Doris Day, evokes the romantic dreams of Caroline and her cohorts.
Presented by Hyde Park & Lafayette and 95WordsPerMinute at HERE Arts Center, 145 Sixth Ave., NYC. Oct. 4–20. (212) 352-3101 or www.here.org. Casting by Paul Davis/Calleri Casting.
Critic's Grade: B+