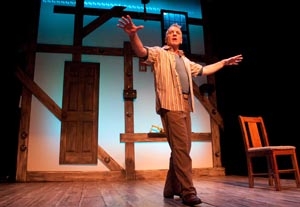 For a play titled "Beyond Words," writer-performer Bill Bowers is certainly chatty. When he's not performing mime, he's regaling the audience with tales of his childhood as a gay boy in Montana, or a week-long trip to teach mime in Choteau in the same state. Most egregiously, there is an explicit song (adapted from a poem by Karen Bashkirew) about the murder of Matthew Shepard underscoring Bowers' mimed reenactment of the hate crime.
Taking "What Is a Boy?," the title of a poem slipped into his bassinet shortly after he was born, as the guiding force behind "Beyond Words," Bowers presents a handful of permutations of American masculinity. But these variations aren't fresh, and neither are the points Bowers is trying to make by putting them on stage. He goes so far as to dip into the overused well of Sherwood Anderson's "Winesburg, Ohio" for inspiration, along with Shepard's murder.
When Bowers is silent, his stories have an elegant and graceful physicality. He can transform from little boy to wizened old man at the turn of the dial, but his anecdotes and reminiscences have a musty feel to them—along with a heavy-handed moral.
There's a silent-film aspect to the best vignettes, though with Bowers' mugging, "Beyond Words" is closer in spirit to the maudlin Charlie Chaplin than the deadpan Buster Keaton. Without a compelling story to tell, Bowers' stories often feel like the carousel he pretends to ride: turning and turning, but getting nowhere.
Presented by and at Urban Stages, 259 W. 30th St., NYC. Oct. 12–30. Mon., 8 p.m.; Thur.–Sat., 8 p.m.; Sun., 5 p.m. (212) 868-4444 or www.urbanstages.org.